YBSA Monthly Report July 2019
YBSA Monthly Report
July 2019
Water Available: At the end of July, the five Yakima Basin reservoirs register at 53% which is 200,000 acre/feet less than average. There is 988 cfs entering the 5 reservoirs at this time with 5277 cfs released. With a decline of total water supply junior users are currently receiving a 67% supply
Lake Cle Elum Fish Project: Construction of the fish passage project is estimated to be in future years when funding becomes available. When the lake reaches the level sufficient for fish passage out of the reservoir. If the Lake level does not exceed 2019 the fish will not be able to move from the lake to the river.
Article from Northern Kittitas County Tribune Thursday, July 18, 2019.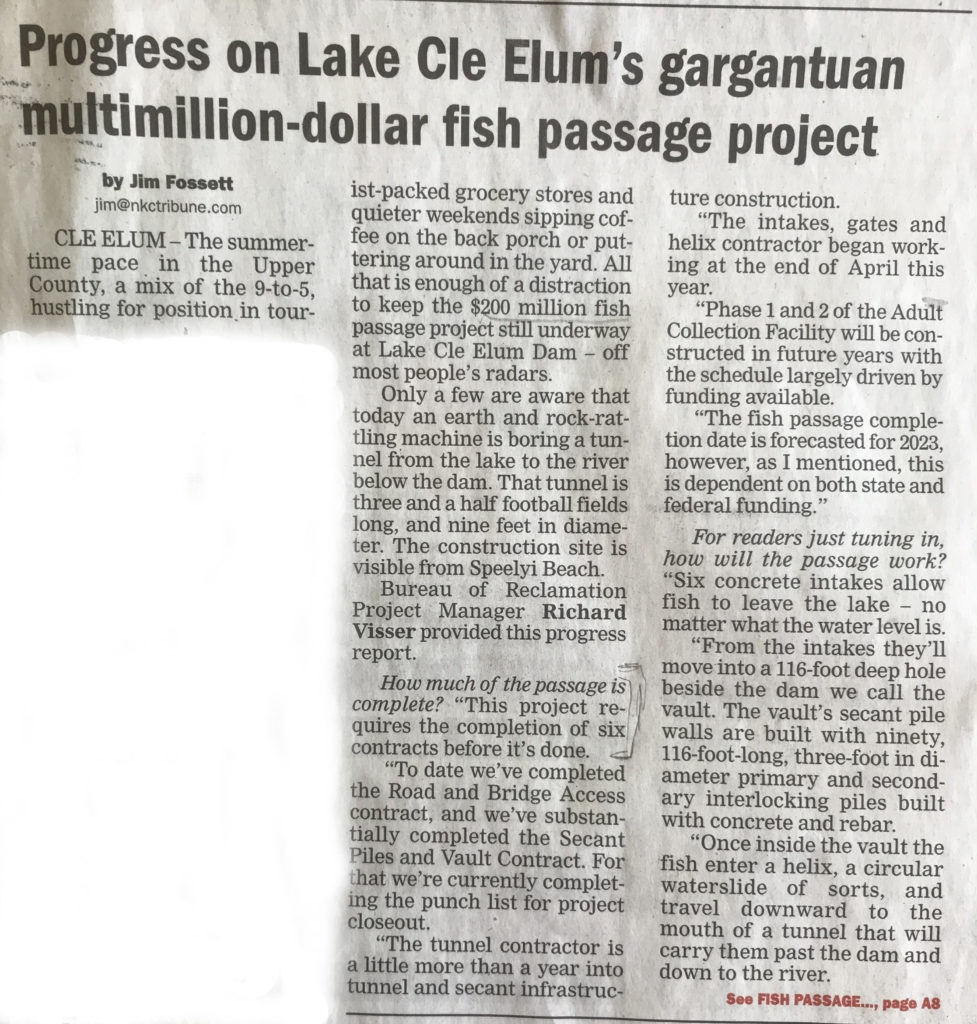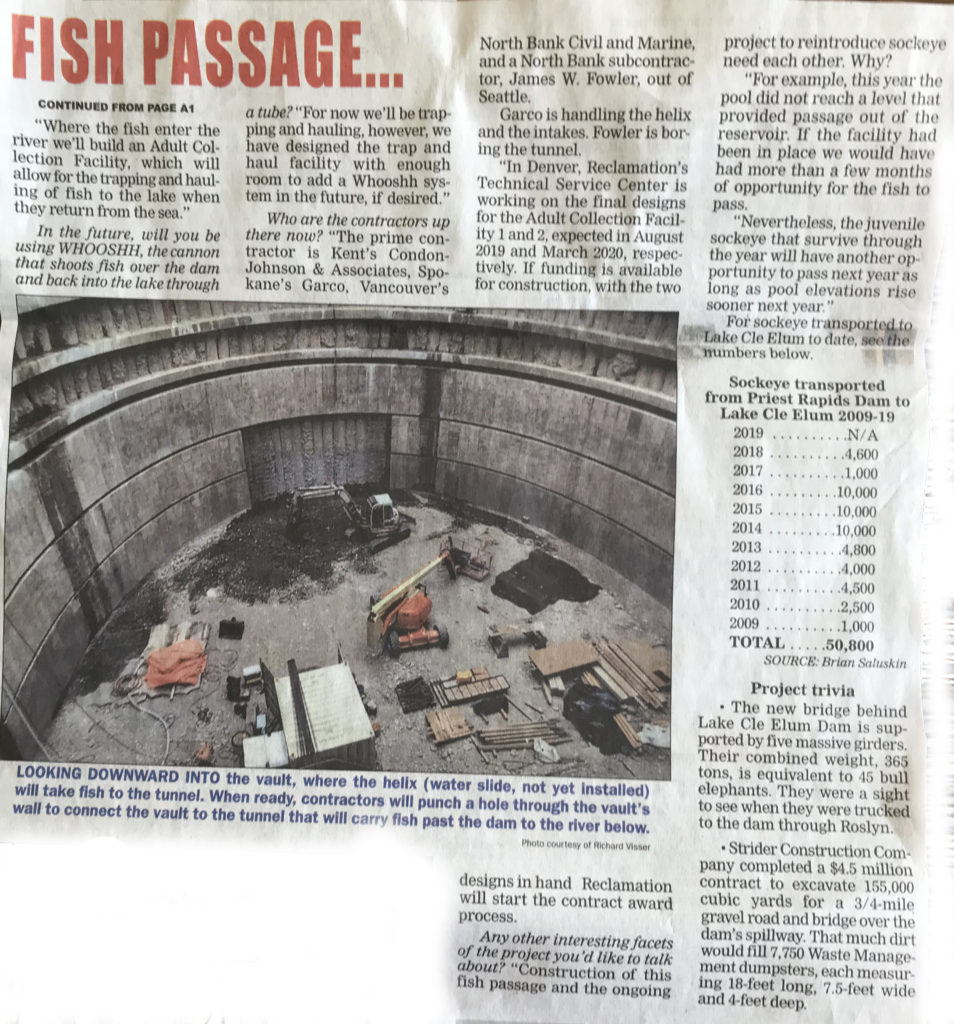 Three Rivers Pump Hydro Storage Workshop: A long term need for base loaded power is larger than widely known. 8.000 MW may be short by 2030. Batteries can provide the same storage for a short duration at 6 times more carbon footprint than Pump Hydro Storage.
Closed circuit pump hydro storage systems are not a good type project for long term success. Remitting has become easier to Pump Hydro Storage project since two new federal laws become effect in the drought of 2014.
Full Meeting Notes Follow:
Three Rivers Pump Hydro Storage Workshop
Meeting Notes – June 24, 2019
Wrap-Up Summary of Take Away Key points:
Economics & Finance
Long term need for base load power is larger than widely known, from 3 sources:
2,250 MW shor by 2022
5,000 MW short by 2025 by 2030
8,000 MW short by 2030 (Source: E3 Consulting report)
Funding is available for PHS projects right now. $100M to $300M is typical.
Organization structure does matter. The limitation for irrigation districts to enter PPP arrangements has been removed.
Limiting factors ahead include pricing trends. For example, 6 weeks ago $1,200 per MWh compared to natural gas pricing $12 to $80 range.
Capacity issue caused a rate spike within Grant PUD to $5,000 per MWh.
City of Quincy will be out of power in 2022 due to new data centers to date.
California load ramps will be in the range of 15,000 MWh ahead (15 times City of Seattle needs).
Batteries can provide the same storage for short durations at six times the carbon footprint compared to PHS, although none are proven yet for 5 days of storage needed at grid scale when extended periods of low pressure eliminate solar and wind.
Environmental Permitting
Requires time, money and land.
2 of 3 FERC Permitting paths are best aligned with PHS proposals.
Now 7 PHS proposals activate is a 50% increased compared to 2014 so interest in PHS is trending upward.
Closed loop systems are low hanging fruit as a project type for permitting success.
Success in permitting starts with communication and permitting is becoming easier (2 new federal laws in August 2014 streamlining less than 10 MW hydro, FERC rule changes, BPA reg practice changes).
Transmission
100% clean energy in WA state is a major challenge ahead. The cost to go from 98% to 100% clean will increase 10 times current rates.
PHS could be load or generator or interconnect or live load, depending on the business model as presented to BPA Transmission at the time of approval.
Defined terms for BPA for PHS create 3 categories of PHS proposals:
Large
Small
Line & load interconnections
BPA Transmission policy and procedure operated on a philosophy of "show me the money" requiring applicant funded deposits upfront ranging from $120,000 for less than 20 MW proposals and approximately $200,000 for other projects for required BPA reviews and studies.