Welcome
Normandeau Study: "Trust but Verify"
Click Here for Executive Summary
(Then use link at end of Executive Summary to see whole report.)
Click Here for link to Story, "Environmental groups angry over Yakima Basin water plan"
Click Here for link to Story, "To save Washington's Yakima Basin fish, just add water"
Attempts at Drought Relief in the Yakima Basin
from the Roza Irrigation District history page:
1977. This year was one of the most eventful in history of the Roza Irrigation District. Early predictions by the Bureau of Reclamation of only 6% of normal water supply for the district prompted many immediate actions by both the district and individual farmers. Many farmers with permanent crops faced total ruin if adequate water supplies could not be obtained. Expensive, deep wells were drilled, pumps were installed on drains, and lands were leased speculating on the water they might receive. Subsequent reallocations by Reclamation eventually brought the district to 70% of normal water supply, but for most farmers, it came too late. Investment in other water sources had already been made. The State and Federal governments made grants and low interest loans to many landowners to help defray some of the overwhelming costs of these emergency projects. The district, to help utilize some of the available funding, also established local improvement districts (LID's). The district explored the possibility of acquiring Columbia River water. However, the financing of such a monumental project to provide a system for pumplift involved, the long conveyance system required, and the time to accomplish the task led to the plan's demise.
Floating Pumps at Cle Elum Lake for Emergency Water Supply:
Constructed and briefly operated (tested) in 1977; suffered fire damage, sunk, and then disassembled in September, 1988.
Bumping Lake Enlargement:
In 1987, a Policy Group was structured to provide a forum for oversight of the Yakima River Basin Water Enhancement Project. Comprehensive legislation was introduced in the U.S. Senate and the House of Representatives providing for the development of a 400,000 acre-foot capacity Bumping Lake Enlargement and associated actions such as water conservation and improved fishery habitat. However, this effort was terminated in September, 1988, and Yakima River Basin Adjudicated proceeded.
Yakima River Storage Study:
In 2004, the Yakima River Storage Study was authorized and funded The storage study evaluated the options of enlarging Bumping Lake, creating a Wymer Reservoir and pumping water from the Columbia River during winter months. Bumping Lake Enlargement and creating Wymer Reservoir were not considered viable and were eliminated. The stored water in the proposed reservoir would be used to irrigate Roza and Sunnyside Irrigation Districts. The water removed annually from the Yakima River would remain to be managed and used to benefit the Yakima Basin. In 2008 the Bureau of Reclamation chose the no-action alternative which eliminated the Columbia River pump-storage project which terminated the possibility of bringing Columbia River water to the Yakima Basin.
Work Group:
In 2009, the Department of Ecology and the Bureau of Reclamation formed a Work Group to develop the Yakima River Basin Integrated Water Resource Management Plan. The plan was developed to provide benefits to all water related programs in the Yakima Basin, a surface water storage plan that included expansion of Bumping Lake, building a Wymer reservoir, pumping water from lake Kachess, raising the level of Lake Cle Elum 3 feet, and beginning an appraisal of transferring water from the Columbia River. The storage plan is to be completed in 30 years.
Study Continues:
As of 2015, studies are continuing on the storage projects to evaluate the feasibility of Bumping, Wymer, and Kachess. The extension of a permit to access water from the Columbia River as part of the Integrated Plan has been extended. Even if all proposed storage projects are completed the Yakima Basin will continue to have insufficient water needed for fish, agriculture, and economic growth.
Why Pump Storage
It's time to consider how to bring water from the Columbia River to the Yakima Basin. With more frequent droughts predicted, a new pump storage project similar to the former Black Rock Reservoir site would provide the water necessary to meet the needs for instream flow (fish), out-of-stream use (agriculture), and economic and municipal growth.
Pump Storage – A Viable Solution
Columbia River flows have increased for decades.
Pump water into the new Pump Storage Project during the spring when the Columbia River runs high and the wind blows.
Use the electricity generated by the wind to operate the pumps.
Design the new Pump Storage Project to provide a 70% supply of water to cover proratable water rights over a two year drought.
Using Columbia River water for Sunnyside and Roza Irrigation Districts will allow the water remaining in the reservoirs in the Yakima Basin to be used for instream flow and water for proratable irrigation districts.
The increased water made available in the Yakima Basin's reservoirs would provide additional water in the Yakima River to ensure the success of the Sockeye population, recharge the flood plain, and make more water available for fish passage.
With the reduction of ground water availability, a more permanent source of irrigation water would be needed to offset groundwater losses.
A pump storage project, such as Black Rock, would make private-public financing more viable.
Seepage from the new Pumped Storage Project would not affect Drinking Water Standards (SWS) on the Hanford Reservation. Se Section V of the Draft Tank Closure and Waste Management Environmental Impact Statement for the Hanford site, Richland, Washington (Draft TC & WMEIS).
By using pumped storage for irrigation, additional water from the Yakima River would be made available to increase the flows in the Columbia River during summer and fall.
The prediction of more years of droughts in the Yakima Basin make it necessary to access Columbia River water which would maintain and improve fish passage and agriculture production.
Electric power generation would provide electricity for the Bonneville Power Administration Electrical Distribution System.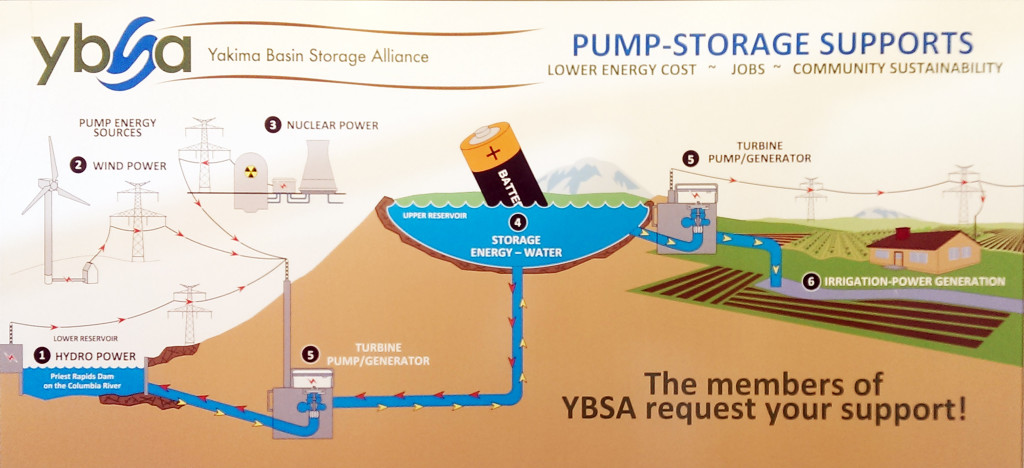 Yakima Basin Storage Alliance
To launch a grass-root campaign designed to educate and raise the awareness about irrigated agriculture and its relationship with Washington State communities and economies.
To provide evidenced demonstrating why the Yakima Basin desperately needs increased storage.
To illustrate that the Yakima Basin's economies are in jeopardy if we do not increase water storage for the Yakima Basin.
To become a resource and catalysts for storage activism, both locally and statewide.  To actively investigate, identify, assess, and promote storage solutions while presenting a unified, informed alliance to engage opposition.
To become the umbrella organization for Yakima Basin storage supporters, forging a foundation for political and social reform that will result in increased storage to benefit irrigated agriculture, instream flows, salmon recovery, Yakima River ecology, and Yakima Basin communities.
$58 million price has farmers divided about emergency water plan
Tight schedule and environmental issues also threaten pumping plan
To save Washington's Yakima Basin fish, just add water
A drought plan in one of the West's most forward-thinking watersheds reconciles salmon and agriculture.
Editor's note: This story touched on just one aspect of the Yakima Basin Integrated Plan. The strong response to this story makes evident the degree to which the compromise still remains a controversial topic in the community. We are reposting the story now, following conversations with the writer, and we're posting lengthy comments from concerned parties, which you can read below. High Country News remains dedicated to strict journalistic integrity in its stories and will continue to report on the complexities of water management in the Yakima Basin and elsewhere. Please feel free to send tips, comments and feedback to Managing Editor Brian Calvert at brianc@hcn.org.
On a scorching Friday in July, Urban Eberhart, manager of the Kittitas Reclamation District in central Washington, received an urgent phone call. On the line was Jonathan Kohr, a state fish biologist reporting an aquatic crisis in Little Creek, tributary to the Yakima River. The stream, Kohr said, had gone dry where it passed beneath I-90, leaving behind an isolated pool crammed with endangered steelhead. Without more water, the fish would die.
The grim news did not surprise Eberhart. Though he'd served on the board of the Kittitas Reclamation District (KRD) — an irrigation project that services around 2,000 farmers — since 1986, he'd never seen a drought as brutal as this year's. Yes, the Cascades had received their share of moisture over the winter; but unseasonably warm weather had caused the precipitation to run off as rain instead of accumulating as snow. Without snowpack to provide a delayed-release reservoir, streams in the Yakima Basin had begun running dry as early as April. Salmon and steelhead runs were collapsing all over the West Coast, plagued by hot water, low flows and disease.
Yet KRD did not succumb to catastrophe. In fact, Eberhart's unique response to the desiccated streams may serve as a model for other Western irrigators seeking to reconcile that eternal conflict: fish versus agriculture. "We can do some inventive things during an emergency," Eberhart says. "And this was truly an emergency."
National Oceanic and Atmospheric Administration
The Yakima Basin's transformation began in 1977, when a punishing drought awoke the region to the need for better water management. That proved easier said than achieved: Over the following decades, disputes over allocation and management erupted repeatedly, driving farmers, agencies, green groups and the Yakama Nation to court. "Whenever we were in a room together, it was with a bunch of lawyers," Eberhart says.
But the years of acrimony produced a handy side-effect: It forced the Basin's stakeholders to interact, cooperate, and even learn to trust each other. In 2012, the warring parties finally buried the hatchet by releasing the Yakima Basin Integrated Plan, a $4 billion combination of water storage and conservation, improved fish passage, habitat restoration and other initiatives. Once a typically rancorous Western watershed, the Yakima had become a model for collaboration. "Folks in other states look at this and say, 'How are you guys doing this?'" says Justin Bezold, Yakima Basin project manager at Trout Unlimited. "'How are you not at each other's throats?'"
The new relationships paid dividends this June, when Eberhart began scheming with other agencies about how to cope with the worsening drought. The big idea: to use KRD's irrigation canals to refill the dying tributaries northwest of Ellensburg. Normally, the canal didn't connect with the streams. But Eberhart proposed diverting flows out of the Yakima and into the canal, then siphoning that water into the tributaries. Eventually, the water would trickle back down the streams and into the mainstem Yakima for the benefit of downriver farmers. It would simply take a circuitous — and fish-friendly — route. "We just borrowed it for a while," Eberhart says.
The jerry-rigged program was an instant success. Streams like the Manastash, Spexarth and Taneum brimmed with life-giving liquid, and baby coho schooled in refilled Tucker Creek. Cottonwoods and willows that would have perished stayed green through the summer.
Some tributaries required extra assistance. In Little Creek, the stream that hosted the stranded steelhead, diverted water simply percolated through the rocks instead of reaching the troubled fish. So Eberhart improvised again: With the farmer's permission, he laid 260 feet of PVC pipe across a hayfield, connecting Little Creek with a nearby irrigation ditch. Supplemented with ditchwater, the creek filled up, and the steelhead survived.
Rehydrating tributaries is just one of the drought-fighting tools being deployed within the Yakima Basin, rapidly becoming one of the West's most forward-looking watersheds. Above the Yakima's confluence with the Naches River, for instance, the state is paying some farmers not to irrigate by leasing out water rights through reverse auctions. This summer, the program saved nearly 900 acre-feet of water. "That's an extremely powerful tool for keeping streams alive and building some community goodwill," says Bezold.
Meanwhile, the future of the Integrated Plan, the agreement that helped broker all this cooperation, remains somewhat uncertain. Granted, the plan, which would do everything from building new fish passages to buying up community forests to installing new pipes, is already in progress. In fact, a pressurized, evaporation-preventing pipeline helped save Manashtash Creek this summer.
But while the state of Washington has committed over $130 million, complete implementation depends on federal funding. In July, Washington Sen. Maria Cantwell introduced a Senate bill that would provide $10 to $20 million annually for the next 10 years. If that seems like a lot for a rural, semi-obscure corner of central Washington, consider that agriculture in the Yakima Basin is worth some $3.4 billion, and that the region produces a third of the nation's hops. Among other projects, the bill would construct emergency pumping plants for irrigators and permanently enshrine the ad hoc diversion projects that saved salmon streams this summer.
Of course, introducing bills in Congress these days is like tossing pennies into a deep, dark pit. Cantwell's bill hasn't yet moved, though Eberhart expects it to proceed to mark-up soon. That would be good news, considering the Yakima's situation is only growing more urgent. Anticipated fall rains still haven't arrived, and reservoirs sit 200,000 acre-feet below last year's levels. Now Eberhart intends to fill the streams using water from behind a nearby check-dam. "What we went through this year," he warns, "is exactly the type of year that the climate change models show will be the new normal 25 to 30 years from now." Steelhead (and Congress), take note.
Ben Goldfarb is a correspondent at High Country News. Follow @ben_a_goldfarb
Department of Ecology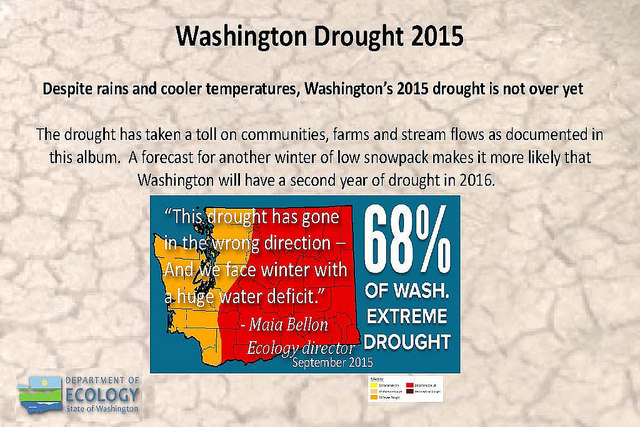 Click Here for updated information about the 2015 drought and the possibility of a 2016 drought year!
Department of Ecology News Release – September 24, 2015
Washington's historic drought not over yet
Drought predicted to extend into second year
OLYMPIA – Even though cooler temperatures and fall colors are returning, Washington's historic drought isn't over. Not by a long shot. "The recent rains were nice, but we're not out of the woods yet," said Director Maia Bellon with the Washington Department of Ecology. "We're carrying a huge water deficit into this fall and winter." In fact, the U.S. Drought Monitor says that the entire state remains in a drought, with the west side in severe drought and the east side in extreme drought. Because it was so hot and dry for so long, aquifers and reservoirs that supply water to fish, farms and communities across the state took a major hit. Water experts say that we need a "normal" snowpack this winter to stave off a second year of drought. Yet there's growing concern that snow may not be in the cards for the second winter in a row. Climatologists are calling for an unusually strong El Nino weather pattern. Meaning a high likelihood that Washington could have another warmer-than-normal winter. "The models are certainly suggesting a warmer winter," said State Climatologist Nick Bond. "We may not get the snow we so desperately need." With water supplies at extreme lows and weather forecasts calling for less snow in the mountains, it's time to start planning for next year. "We're already preparing for what very well could be another difficult year ahead," Director Bellon said. Ecology is coordinating with irrigation districts, like in the Yakima Basin – our state's greatest agricultural region. Plans are being made to start leasing water as early as January, well ahead of next year's planting season. This will help farmers better plan for water supply and crop rotations. The agency is prepared to spend more money next year to lease even more water from farmers. Pictures showing the drought hardships and response work across the state are available on Ecology's drought website and Flickr album.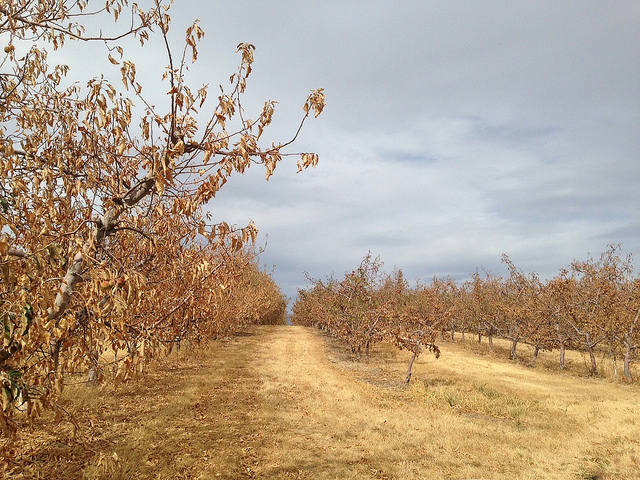 First phase of Cle Elum Dam fish passage construction to begin this fall
By Erik Pague (erik@nkctribune.com)
RONALD – In a ceremony held at the Cle Elum Dam on Thursday, Aug. 27, local, state, federal and Yakama Nation officials gathered to announce that the official start of construction of a $100 million, high-tech fish passage at the more than 80-year-old facility is scheduled to begin this fall. The initial work will consist of building a bridge and access road across the Cle Elum River to allow work crews to access the construction site on the south bank of the river and Lake Cle Elum
The planning for the passage began in the late 2990s and the project is intended to restore salmon biodiversity – particularly species like sockeye – to the lake and river while still providing enough water to meet the demands of irrigators downstream.
Agencies represented at the ceremony include dam owner Bureau of Reclamation, the Washington State Dept. of Ecology, and the state Department of Fish and Wildlife along with representatives and council members from the Yakama Nation.
Reclamation Pacific Northwest Regional director Lorri Lee said Bellingham-based Strider Construction is handling the bridge project, which she said should be completed by October 2016. Lee also explained how the unique helix design of the fish passage uses varying heights of entrances to allow fish to exit the reservoir at Lake Cle Elum no matter what depth it is at. A video explaining the design is available online at usbr.gov/pn/programs/eis/cle-elum.
"The intakes are staggered along the shoreline so fish can find the passage easily," Lee said. "This is a world class facility . . . and will play a huge role in restoring this natural legacy to the watershed."
Yakama Nation fisheries research scientist Mark Johnston said the passage would work in combination with a more conventional catch and release program that involves capturing fish at the base of the dam on the river side then trucking them to the lake in order for them to reach their traditional spawning sites higher up the watershed. Johnston said the finished project should be an environmentally friendly way to restore fish diversity and satisfy the desires of tribal leaders and fishermen who originally pushed for the passage more than a decade ago.
We're putting the ecosystem back together and the biggest part is we're doing it with the least amount of impacts on anybody else," Johnston said. "It's a win-win situation for everybody."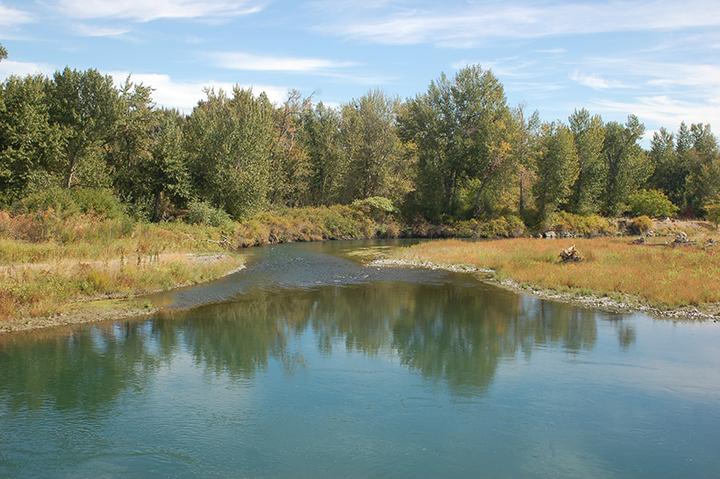 Reclamation awards $2.3 million contract for radial gate modifications at Cle Elum Dam
BOISE, Idaho- The Bureau of Reclamation has awarded a $2.3 million contract to Redside Construction, LLC, a small business based in Bainbridge, WA, to increase the height of radial gates atop Cle Elum Dam.
Once shoreline protection measures are put into place, the work will allow for a three-foot increase of the reservoir's pool level. The Cle Elum pool raise project is a component of the Yakima River Basin Integrated Water Resource Management Plan, the result of a partnership of stakeholders that has identified a comprehensive approach to water resource management and ecosystem restoration.
This first phase of construction could begin as early as November and is to be completed by July 2018.
"This is a great example of diverse partners coming together to identify solutions to complex water resource issues," said Bureau of Reclamation Commissioner Estevan López. "At a time when many western states are struggling with drought, partnerships such as these are great opportunities to create workable solutions that will benefit a multitude of people in this area."
Redside Construction specializes in marine construction, heavy civil projects and general public works. It has completed hundreds of private and public projects since 1984.
Officials say drought conditions worst in Washington recorded history
By Kate Prengaman  Yakima Herald Republic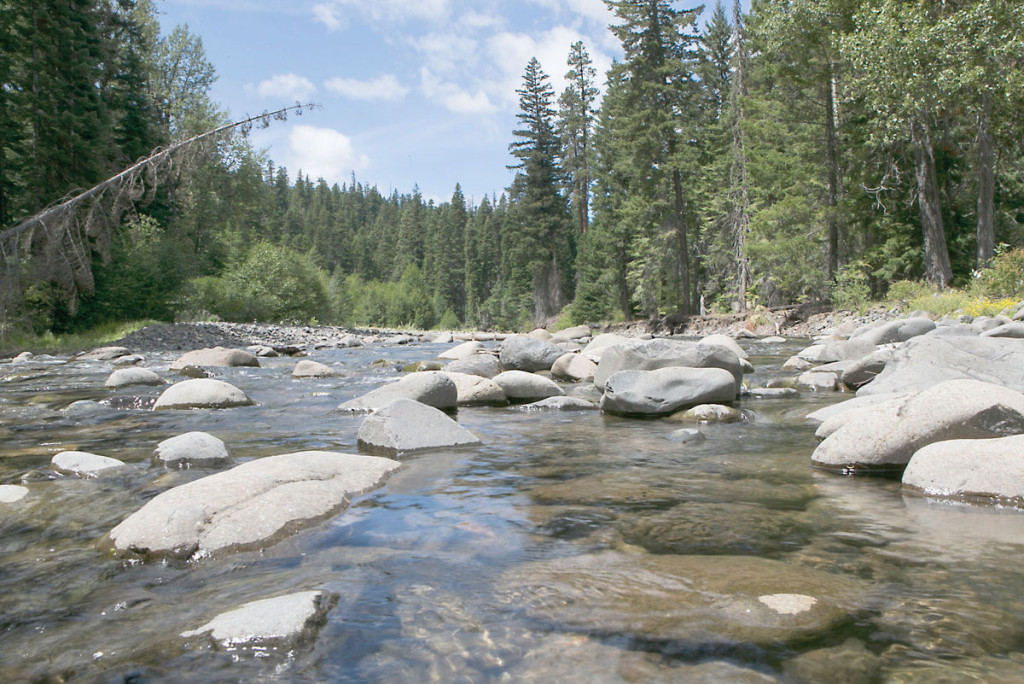 Little Naches
Rivers and streams are at record lows, fish are dying, rainforests are burning and farmers and communities are facing water shortages.
Officials call its scope and impact unprecedented in the modern history of Washington.
"We have never experienced a drought like this,"  said Maia Bellon, director of the state Department of Ecology. "It is remarkably worse than the drought of 2005 or 2001… and there is no end in sight."
Speaking at a Friday media briefing, Bellon and officials at six other state and federal agencies painted a dire picture.
While some $16 million in emergency drought funding should soon be available for leasing water rights, drilling new wells and providing other relief, Bellon cautioned it won't solve every drought crisis.
The problems all stem from a record low snow pack in the Cascades followed by hot and dry weather in recent months, Bellon said. Even normally wet Western Washington has seen less rainfall that Phoenix, Ariz., she added.
State climatologist Nick Bond called it "a one-two punch to streams and the landscape."
Comparatively speaking, reservoirs have somewhat cushioned Yakima Basin farmers from the drought's direct hit. Junior water right holders expect to get just 46 percent of their normal supply here. But elsewhere about 300 irrigators who divert directly from rivers, such as the Wenatchee and Okanogan, have been shut off because water levels are so low, Bellon said.
Local growers getting water from the Teanaway River and Cowiche Creek could soon face a similar fate as water levels continue to decline.
"The highly regulated reservoir system in the Yakima Basin is able to time water (releases) and that makes it easier to squeeze more water out of the system," said Ecology spokeswoman Joye Redfield-Wilder. "If you are drawing right out of a tributary, you are at the mercy of that stream flow and you are in a very difficult and grim situation."
Monitoring data from 300 stream gauges around the state show that 84 percent are below normal and almost half have set new record lows, breaking records dating back 80 years or more, said John Clemens with the U.S. Geological Survey, USGS.
Clemens said that in past the past droughts of 2001 and 2005, no more than 50 percent of the stream gauges were below average.
For example, take American River, a key tributary of the Naches River that flows from Chinook Pass. On Friday it was measured at 38 cubic feet per second (cfs), shattering the record low of 62 cfs set in 1941. Normal for this time of year is between 200 to 250 cfs.
Low river flows mean warmer water that sickens fish. It also creates isolated pools of water making it difficult fish to dodge predators and strand salmon and steelhead trying to get upstream to spawn.
That's led the state Department of Fish and Wildlife to issue full and partial fishing closures on more than 30 rivers across the state starting today, said Joe Stohr, deputy director of the wildlife department.
Local closures include the Little Naches River, Ahtanam Creek, and the Teanaway River. Fishing on the Naches River and Rattlesnake Creek are now limited to the hours between midnight and 2 p.m.
"We took these steps to protect the most vulnerable fish," Stohr said.
He added that the agency is asking for the public's help to prevent and remove recreational rock dams this summer.
"You've all probably seen kids building little dams to create wading pools, but they prevent fish passage and limit spawning, especially with low water levels," Stohr said. "Don't build them. If you see them, report them."
State officials are also asking for the public's help preventing wildfires as hot, dry conditions make it likely that elevated fire danger will last all summer.
Department of Ecology Drought Information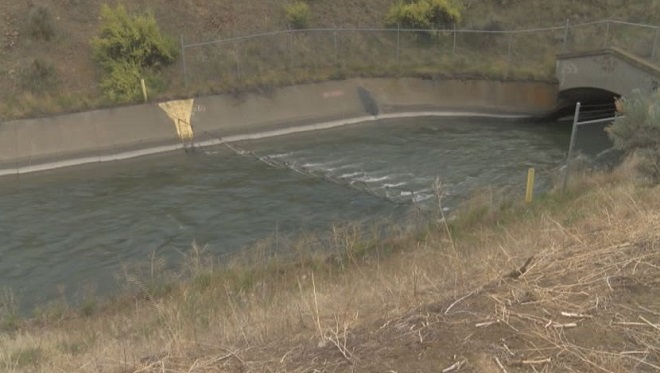 Roza Canal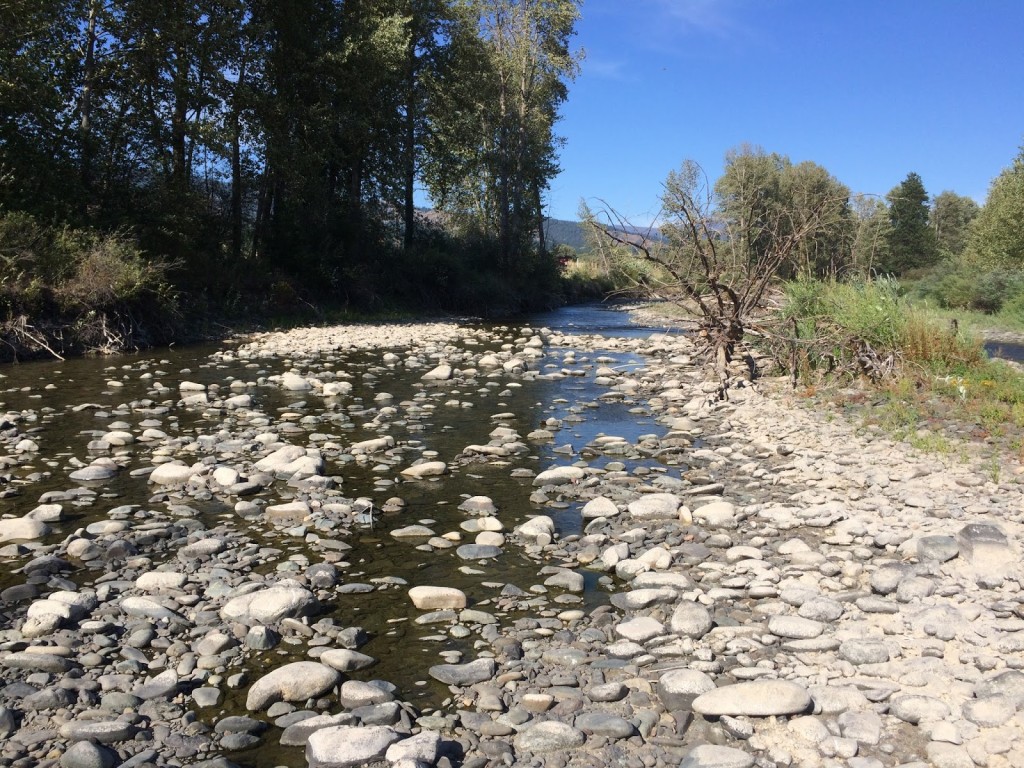 Teanaway River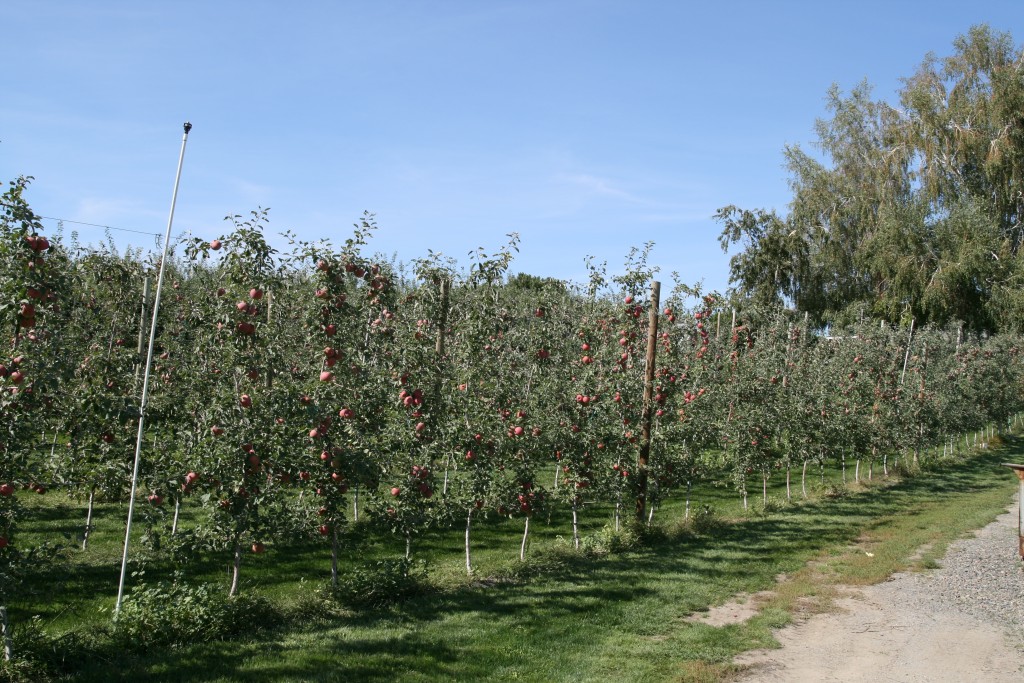 Apple Orchard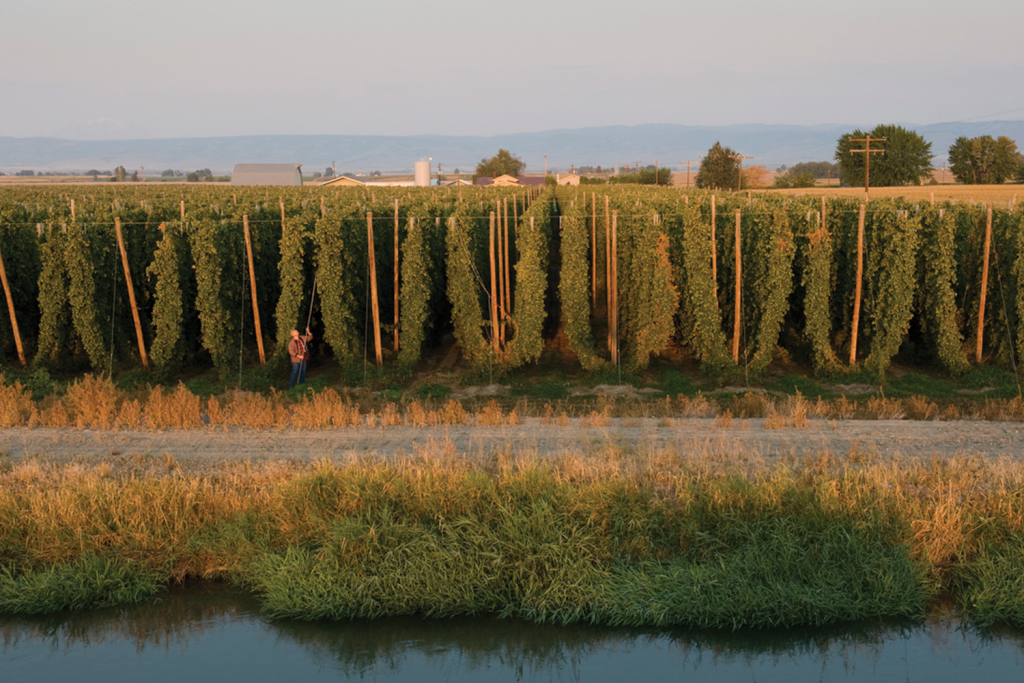 Hops 
Video
Thousands of Yakima basin farmers will be short of water this summer, in a year marked by a stunning lack of snow to feed a river that sustains crops worth more than $2 billion annually. (Steve Ringman and Lauren Frohne / The Seattle Times)
Lake Cle Elum

Jun 02 2015
Cantwell Calls for Bold 21st Century Solutions to Drought Crisis
Secures Agreement from the Department of the Interior on Next Steps for Yakima Basin Project
Washington, D.C. – Today, U.S. Senator Maria Cantwell (D-WA), ranking member of the Senate Energy and Natural Resources Committee, called on federal agencies to work cooperatively with state and local governments on innovative water management solutions to address rapidly changing conditions.
Cantwell called on federal and state governments to work together on issues such as:
•         Better collaboration on managing water for summer streamflows,
•         Storage plans to ensure that water lasts longer into the season, and
•         Water conservation programs for farms, municipalities, and homes.
"These challenges will only intensify in the coming years.  These drought conditions are the new normal; we need fresh approaches to better address these conditions and to prevent imminent economic losses," Cantwell said. "Federal agencies must work closely with states and local communities on innovative programs that address these issues, before they reach the crisis point."
Cantwell proposed four areas of focus for dealing with drought: more collaborative water-sharing agreements, more flexibility in operations, leveraging science and technology more in decision-making and in maximizing efficiencies, and better planning for the future as opposed to only reacting to emergencies.
"Key to the successful implementation of emergency drought response in Washington is the work we have done actively developing collaborative partnerships in many of the key watersheds in the state such as the Yakima, the Walla Walla, and the Dungeness. In the Yakima basin, partners have developed leasing arrangements to share water among irrigation districts and provide water for stream flow while land lies fallow. In addition, all parties, including the Yakama Tribe, have agreed to a flexible approach for mitigation when drought wells are in operation rather than having the full amount of mitigation water up front and in play when the wells are turned on," Tom Loranger, of the Washington State Department of Ecology said.
Cantwell asked Mike Connor, Deputy Secretary of the Department of the Interior, to commit to the next steps of the Yakima Basin Project, such as the Kachess reservoir project and additional fish ladders.
"I do see those as the logical next steps moving forward with the comprehensive plan to address water supply issues.  [The Yakima Basin Project] represents a very good strategy," Connor said.  "It has as broad as support as you can get.  These upfront investments do help head off shortages and offer the relief measures that are needed."
Click Here for video of U.S. Senate hearing to receive testimony on the status of drought conditions throughout the western United States and actions states and others are taking to address them.
Click Here to read Senator Cantwell's complete statement.
 
Click Here for article concerning water issues in the Pacific Northwest and California.
Time to Revive the Black Rock Reservoir Plan
By Don C. Brunell
June 26, 2015

Yakima Valley farmers have the same problem as their California counterparts: there just isn't enough water for crops, migrating fish and people.
In California this year, an estimated 564,000 acres of prime cropland will be left unplanted because of the fourth straight year of drought.  Economists at the University of California, Davis estimate the drought has caused $2.7 billion in economic losses and cost 18,000 farm workers their jobs.
The water shortage is so acute in California that Gov. Jerry Brown ordered a 25 percent reduction, which has even forced many expensive homeowners to rip out their manicured lawns and plant desert plants among sand and rocks.
There are similarities between California and Washington.
Just as the Sacramento and San Joaquin rivers are the heart of California's north central irrigation network, the Yakima River is the main artery flowing through one of our state's prime growing regions.
With snowpack in the Cascades at a dismal 10 percent of normal, Yakima farmers are struggling to stretch available water supplies during the upcoming summer months when irrigation water is most needed.  The situation has once again prompted state and federal officials to consider adding water storage capacity.
Considering that, it is time to dust off the Black Rock project, which, as originally conceived, would transfer spring runoff water from the Columbia River in central Washington uphill to a new reservoir east of Yakima.
It would be a mammoth undertaking.  Under one proposal, the Black Rock Dam itself could be 750 feet high—taller than Hoover Dam on the Colorado River.
In 2008, the U.S. Bureau of Reclamation determined that the Black Rock Reservoir would be too costly. The estimated cost then was about $5.69 billion, but it could potentially climb to as high as $7.7 billion.  At the time, the Bureau reported that Black Rock would return 13 cents for every dollar spent to build and operate.
However, an independent impact study by the Yakima Basin Storage Alliance (YSBA) found that Black Rock would generate $8 billion in economic benefits from agriculture, tourism and construction jobs.  YBSA figured an additional $3.5 billion would be generated in recreational opportunities alone, a factor not considered by the Bureau of Reclamation.
There is another reason to revive the plan.  Over the last eight years, massive amounts of wind generation have come on line, which means, in addition to an irrigation lake, Black Rock could become a pumped storage facility generating hydropower from wind power.
Here is how it would work.  Columbia River water would be pumped over the hill to Black Rock when wind electricity is abundant and costs are lower.  The water could be sent back down the hill run through hydropower generating turbines and empty back into Columbia River at peak electricity demand periods.
A pumped storage project using wind-generated electricity would provide a storage battery for energy and would benefit fish, agriculture, municipal needs and economic stability while leaving a reliable water supply in the Yakima River.
Integrating wind and hydro works.
For example, Spain's electric utility, Iberdrol, is using wind power to pump water up to storage reservoirs.  When it rushed downhill through power turbines, Iberdrol is currently generating more electricity than Bonneville Dam—and more is on the way.
Using this same technology, Black Rock could become more than just an irrigation reservoir; it would ease the demand to divert water from the Yakima River for irrigation, leaving more water in the river, which would raise stream flows, which in turn would improve salmon and steelhead habitat.
It is a concept worth looking at that could make Black Rock economically feasible while providing everyone with much-needed additional fresh water.
Don C. Brunell is a business analyst, writer and columnist.  He recently retired as president of the Association of Washington Business, the state's oldest and largest business organization, and now lives in Vancouver. He can be contacted at theBrunells@msn.com.
Reusing Columbia's Water Can Help Farmers and Fish
By Don C. Brunell
May 29, 2015
Traditionally, pumped storage is thought of in terms of power production, but sending water back into a reservoir such as Lake Roosevelt would not only increase power production, but the water could be available for irrigation, navigation and augmenting fish runs.
Since, northwest electric ratepayers already are charged for salmon recovery, perhaps some of those funds could be used to underwrite the costs of pumping.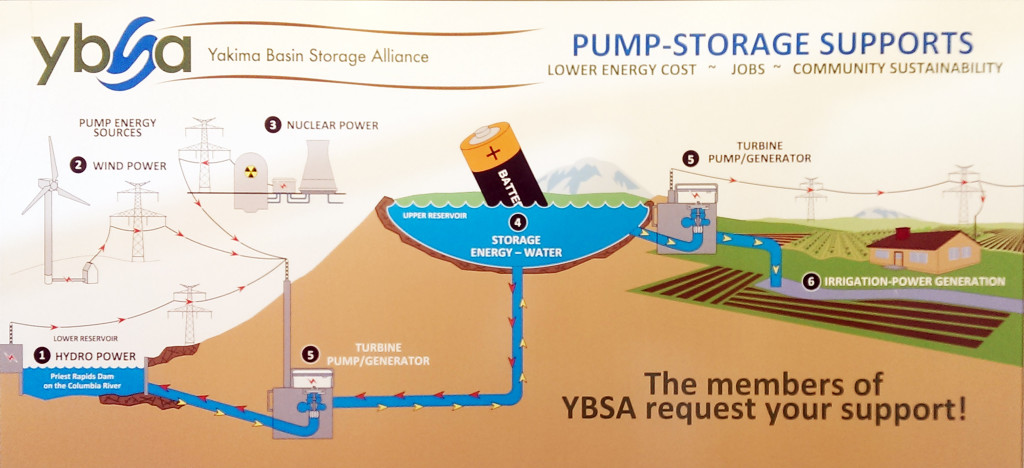 Over the last few years, one of the remarkable successes is the record salmon returns to the Columbia River and its tributaries.  Conversely, one of the biggest disappointments is low recovery of delta smelt in San Francisco Bay.
To protect the smelt, a federal court ordered that water be flushed into the San Francisco Bay – 1.4 trillion gallons since 2008. That was enough water to sustain 6.4 million drought-stricken Californians for six years.  Yet a survey of young adult smelt in the Sacramento-San Joaquin River Delta last fall yielded just eight fish, the lowest level since 1967.
Increasing river flows in the northwest to wash young salmon to sea has worked; nevertheless, once water goes down the river, it is gone.  What if we could recycle that water in key parts of the Columbia River reservoir network?
It's called "pumped storage."  It works in West Virginia and it could work in the Northwest.
In West Virginia, the Bath County project is the world's largest pumped storage hydro system, producing about half the amount of electricity generated by the Grand Coulee Dam.  During peak electrical demand, water flows through power generators draining into a lower reservoir and conversely, during periods of low demand, water is pumped back into an upper reservoir.
The difference in the price of electricity between low and peak usage makes the plant economically feasible and the plant operators have the option to power the pumps by substituting electricity from other sources, including wind and solar.
That concept may work at Grand Coulee Dam.
For example, during peak electrical demand, generators in Grand Coulee's third powerhouse alone produce enough electricity to light Seattle.  What about capturing that water below the dam and pumping it back into Lake Roosevelt during the late night and early morning hours when electricity demand is slack?
Traditionally, pumped storage is thought of in terms of power production, but sending water back into a reservoir such as Lake Roosevelt would not only increase power production, but the water could be available for irrigation, navigation and augmenting fish runs.
Since, northwest electric ratepayers already are charged for salmon recovery, perhaps some of those funds could be used to underwrite the costs of pumping.
It may be an approach to consider in the vast Columbia River system, which supports agriculture,  salmon and produces 75 percent of our state's electricity.
In 2000-01, when low stream flows in the Columbia system curtailed hydropower production, this region lost most of its aluminum smelters and the family-wage jobs that went with them as electricity was reallocated to household and commercial use.
Pumped storage could also avert water conflicts such as those occurring in California.  As Californians suffer through their fourth year of record drought, hydropower's share of the state's total electricity supply has dropped from 18 percent to 12 percent.  The deficit has been replaced by natural gas-fired generation, which adds to greenhouse gas emissions.
The University of California at Davis estimates the statewide economic cost of the 2014 drought totaled more $2.2 billion, including $810 million from lost crop revenue, $203 million from lost livestock and dairy revenue, and $454 million from the additional costs to pump groundwater to keep production going.  The state has lost 428,000 acres of irrigated cropland and an estimated 17,000 part-time jobs.
Now, Gov. Brown has ordered a 25 percent reduction in water usage because there isn't enough water for cities, farms and factories.
Rather than put ourselves in the same predicament as California, why not look at alternatives, such as pumped storage because when the pie is larger, there are fewer family fights over a smaller and smaller pie
Don C. Brunell is a business analyst, writer and columnist.  He recently retired as president of the Association of Washington Business, the state's oldest and largest business organization, and now lives in Vancouver. He can be contacted at theBrunells@msn.com.
Yakima River water supply for junior irrigators stands at 44 percent
Yakima Herald-Republic
news@yakimaherald.com
Junior water rights holders should expect only 44 percent of their normal irrigation supply, the Bureau of Reclamation said in its latest summer forecast today.
That figure is unchanged from an update last month. The forecast for junior water users has declined from the start of the year as winter snowpack failed to materialize.
"The May rain storms have helped hold flows and reservoirs fairly level through the second half of May," Chuck Garner, Reclamation's supervisor for Yakima Project River Operations, said in a news release.
The region's irrigation systems rely on a series of reservoirs to hold water for later use in the year.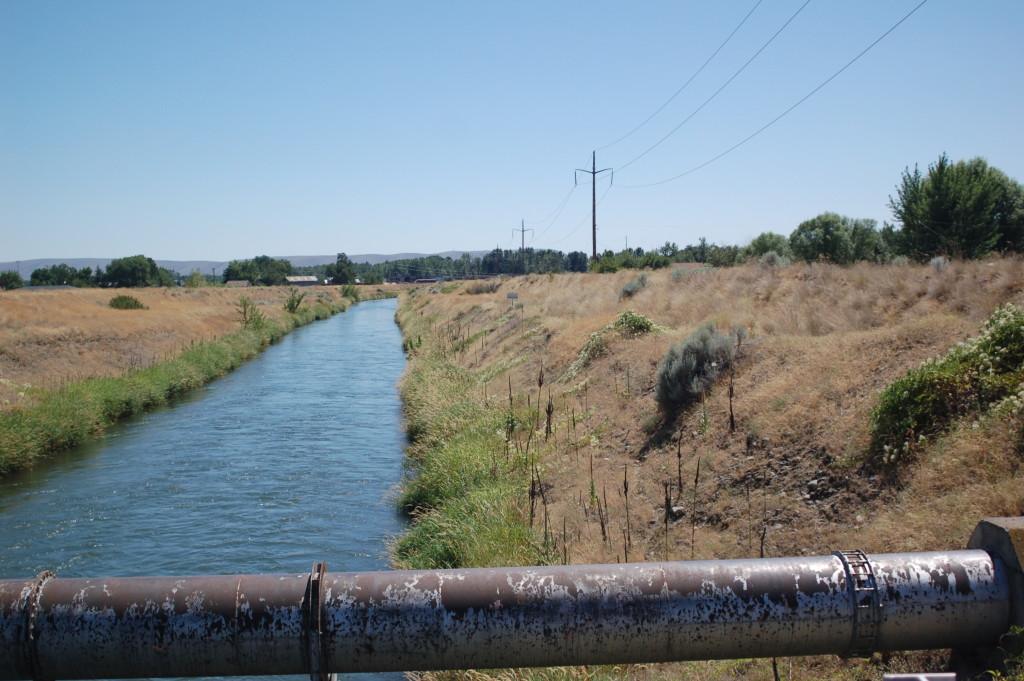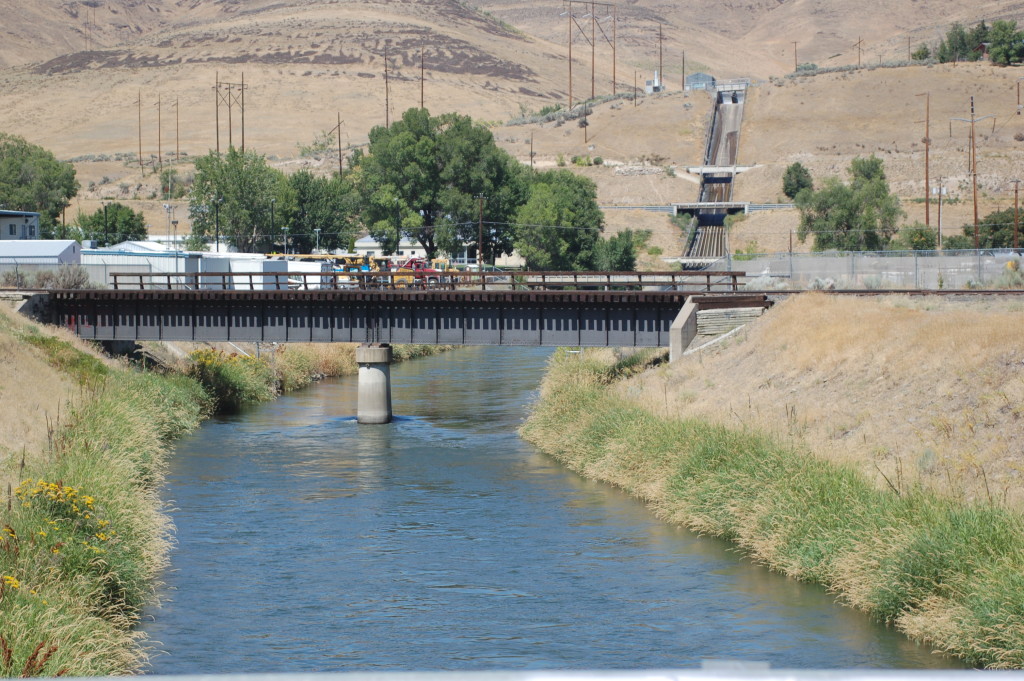 Roza Canal with water.
Revised forecast: Junior irrigators now expecting 44 percent of normal water supply
By Kate Prengaman yakimaherald.com May 19, 2015
YAKIMA, Wash. — The water supply outlook for the Yakima Basin continues to decline — officials now predict a 44 percent supply for junior irrigators, down from the 47 percent estimate earlier this month.
That's even with the boost of last week's rain.
Chuck Garner, who manages the Yakima Basin irrigation system for the Bureau of Reclamation, said that the rain basically covered for a week of releases from the reservoirs, allowing them to hold on to that water for later in the season.
But, the effect was short-lived and the reservoirs are back to releasing far more water for irrigation use than they are taking in from runoff and snow melt, he said.
As of Tuesday morning, the region's five reservoirs are 93 percent full and the snowpack is practically non-existent.
The warm winter and lack of snowpack are driving the drought conditions, which have worsened because of the dry spring weather.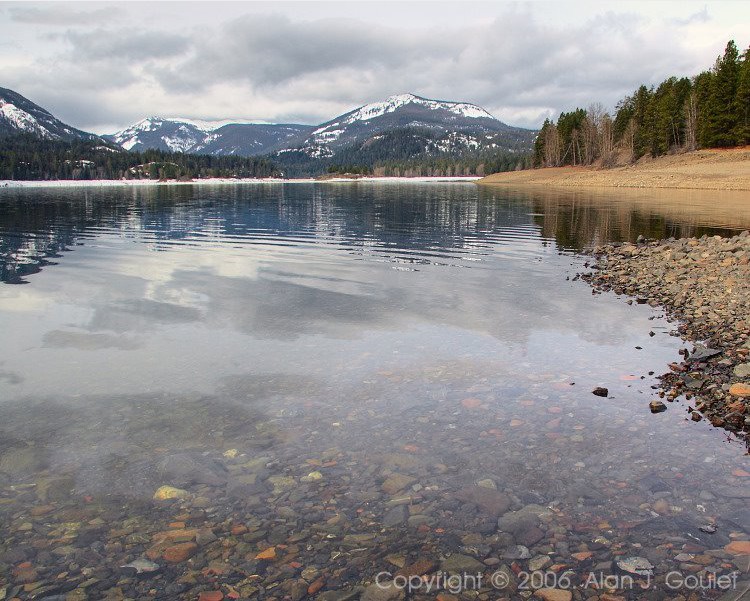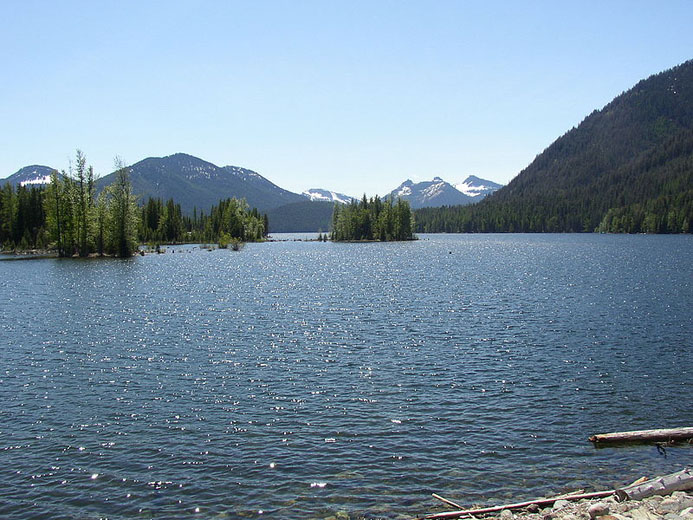 Newhouse leads effort for federal funding of water storage projects
May 3, 2015
By Kate Prengaman / Yakima Herald-Republic
It's too late for new reservoirs to make a difference for this summer's water shortages, but first-term Congressman Dan Newhouse is pushing a bill aimed at encouraging the federal government to pick up the pace on planning new water storage projects.
"I've been part of the agriculture community for a long time in the Yakima Valley and there's been a lot of effort in my lifetime to look at additional storage options," Newhouse said.
But until the recent development of the Yakima Basin Integrated Plan, he said, most of the proposed solutions had stalled in the planning process. The plan has the support of a wide range of interests, including tribal officials, farmers and irrigation companies.
With drought conditions in the Yakima Basin and across the West, Newhouse said he's optimistic that other lawmakers will support his proposal to streamline the often-lengthy review process that the federal Bureau of Reclamation is required to undergo.
"This year, a lot of people are thinking, 'Gosh, I wish we'd done some of this in the past,'" he said. "It's not to sell short the environmental or feasibility review process, but just to put a limit on that so we can either move forward with a project or say no and move on to a different solution."
The bill, which targets only water supply projects planned by the Bureau of Reclamation, would limit the feasibility study to three years and $3 million. Extensions would be available if they can be justified.
Newhouse said the provisions are similar to those in a water infrastructure bill targeting the U.S. Army Corps of Engineers that Congress passed with broad bipartisan support last year.
Known as the Water Resources Reform and Development Act, it also authorized $12.3 billion worth of specific projects, including deepening harbors and improving flood control.
Newhouse's bill focuses solely on making the review process more efficient and accountable, not on authorizing specific projects.
If passed, the bill would not speed up the process for reservoirs that are already in the works. That means it likely will have little impact on the new reservoirs proposed for the Yakima Canyon and Bumping Lake under the Yakima Basin Integrated Plan.
"Even though this doesn't directly benefit the current effort, it certainly will help future efforts and potential new projects considered in the future in the Yakima Basin," Newhouse said.
Co-sponsors include Reps. Paul Gosar, R-Ariz., Doug LaMalfa, R-Calif,, Cynthia Lummis, R-Wyo., and Tom McClintock, R-Calif. Newhouse said he expects the bill to gain support with Western lawmakers from both parties.
"Water is a precious resource," he said. "This focuses on potential solutions that we are going to need very soon."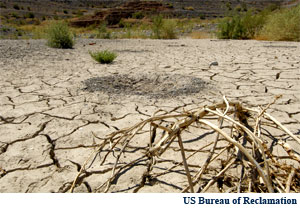 Yakima Valley farmers seek state drought relief for emergency wells
By Kate Prengaman / Yakima Herald-Republic
Posted on April 25, 2015
Eyeing this summer's predicted water shortage, Yakima Basin farmers with emergency wells are eager to start pumping, but they're waiting for lawmakers to find funding.
On Friday, Sunnyside-area dairy owner Brian Bosma told the Legislature's drought committee that because of rationing of irrigation district water supplies, he'll need his backup well to have enough water for his cows and to manage their manure by using it to grow crops.
"I can't even run one pivot," Bosma told the lawmakers.
But Bosma's emergency well and about a hundred others in the region can't be turned on until the state Department of Ecology has the money to lease water rights to offset the wells' effects on the region's total water supply, said Tom Loranger, the agency's water resources program manager.
It's necessary because the region's entire water supply is already claimed.
Ecology has requested $9.6 million from lawmakers for drought-relief efforts, including balancing the use of these wells. However, that funding has not yet been approved.
Loranger told the committee that during the last drought in 2005, Ecology spent $1.3 million on water rights to offset the use of drought wells that served about 11,000 acres in Yakima and Kittitas counties.
This year, it's likely to cost closer to $2.2 million because the value of the water rights appears to have gone up substantially, Loranger said. In 10 years, the cost of leasing one acre-foot of water — enough water to cover an acre with one foot of water — has nearly doubled, from $137 to $275, he said.
The rising price reflects more demand and less supply, Loranger said. Committee chairman Sen. Jim Honeyford, R-Sunnyside, agreed.
"There's more high-value crops going in, so there is not as much water available to share. That's why it's going up in costs," Honeyford said.
It's also going to be more expensive for the Roza Irrigation District, which has all junior rights, to lease some senior water rights from the Sunnyside Irrigation District. In 2005, Roza leased almost 28,000 acre-feet at a cost of $3.8 million.
This year, fewer than 10,000 acre-feet will likely be available to lease, district manager Scott Revell said in an interview after the hearing. With 54 percent of normal supply estimated, the district is rationing, but no decision has been made on a midseason shutdown, he added.
In the past, the state has split the cost of water transfer with the irrigation district 50-50, but covered the entire cost of the emergency wells, Loranger told the committee.
That surprised Honeyford, who said it would be more fair to have all water users share the costs. It would also help the state stretch its funds.
No decision was made on cost-sharing during the Friday hearing. Loranger said if costs were split 50-50, the estimate for a farmer with an emergency well serving 80 acres would be about $7,700. That would be just for the water rights, not including the cost to power the pumps.
Funding for drought relief will be just one of many budget needs facing lawmakers as they try to broker a deal in a special session that starts next week. The Senate included $18 million for drought relief in its capital budget proposal, but the House did not.
State to lease water to bolster summer stream flow
By Kate Prengaman / Yakima Herald-Republic
April 2, 2015
YAKIMA, Wash. — Eyeing forecasts of a water shortage this summer, state officials are looking into leasing water from irrigators to keep streams flowing in the Upper Yakima Basin.
The warm winter resulted in a nearly record-low snowpack across the region, which means streams in the upper watershed that are normally fed by snow melt are at high risk of drying up this summer, the state Department of Ecology said in a news release Wednesday.
In March, Gov. Jay Inslee declared a drought emergency in Central Washington. The region's snowpack is about a quarter of normal for this time of year, and the Bureau of Reclamation estimates that junior rights holders in the Yakima Basin will receive about 73 percent of their normal water supply.
Ecology is looking for senior water rights holders who have rights to water in tributaries north of Yakima and would accept payment for not diverting water for their crops this summer.
The agency has $500,000 to spend to lease water to supplement stream flow, said Ecology spokeswoman Joye Redfield-Wilder.
By leasing water for tributaries, the state protects both fisheries and river flows farther downstream where other irrigation withdrawals are made, Redfield-Wilder said. Exactly how much water could be leased is still unknown, she added.
During the 2005 drought, Ecology leased 4,012 acre-feet from upper Yakima River irrigators.
Ecology uses a reverse-auction process to lease water rights. Irrigators state the price they are willing to accept to lease water, and Ecology selects which bids to take.
This leasing program is funded through Ecology's regular water resource program, Redfield-Wilder said, but more leasing and transfer programs could start this summer once the Legislature approves the $9 million in emergency drought relief funding the agency requested. Private parties can also pursue water rights transfers, subject to state approval, at any time.
Below is a link to the Yakima Basin Storage Alliance's Response to the Keechelus-to-Kachess Draft Environmental Impact Statement.
 
Kachess Drought Relief Pumping Plant and Keechelus Reservoir-to-Kachess Reservoir Conveyance
Draft Environmental Impact Statement
January 2015
Bureau of Reclamation and Department of Ecology
Below is the Draft Environmental Impact Statement Executive Summary pdf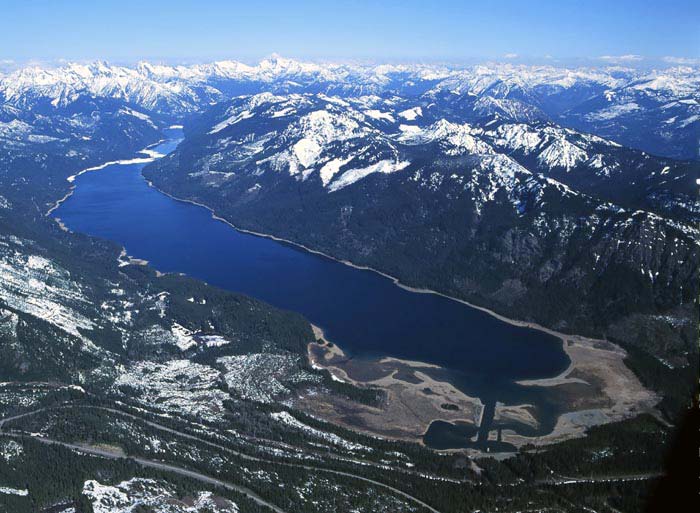 Lake Kachess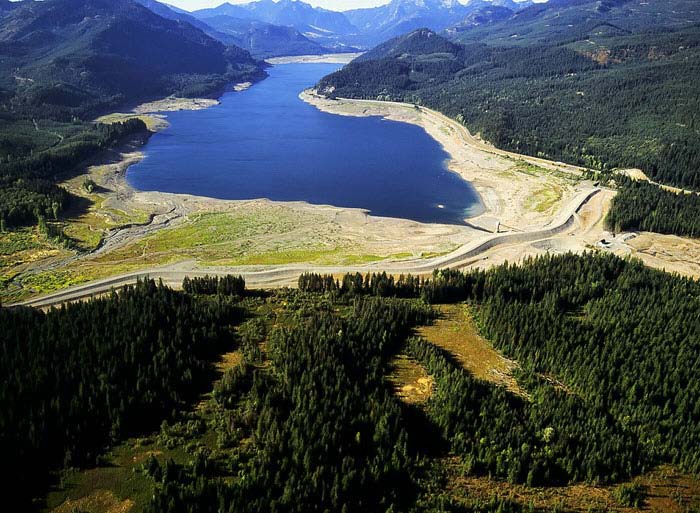 Lake Keechelus
Salmon Jumping
Above Pictures from Bureau of Reclamation
BENEFIT-COST ANALYSIS OF THE YAKIMA
BASIN INTEGRATED PLAN PROJECTS
REPORT TO THE WASHINGTON STATE LEGISLATURE
December 15 2014
Principal Investigators:
Jonathan Yoder, Project Lead and contact author
Director, State of Washington Water Research Center
Professor, School of Economic Sciences
Washington State University
yoder@wsu.edu
Jennifer Adam, Washington State University
Michael Brady, Washington State University
Joseph Cook, University of Washington
Stephen Katz, Washington State University
Contributing authors and research support
Daniel Brent, Monash University
Shane Johnston, University of Washington
Keyvan Malek, Washington State University
John McMillan, McMillan Biological Consulting and Media
Qingqing Yang, Washington State University
B-C Analysis of YBIP Projects P a g e | 2 December 2014
Executive Summary
The Yakima River Basin lies in semi-arid south central Washington and supports a growing population as well as $3 billion agricultural industry that is heavily dependent on irrigation for production. The river system historically supported large runs of salmon and steelhead, but a variety of stressors both internal and
external to the basin have reduced those populations substantially since the early 20

th

century. A reservoir

system supplies water through the operation of five reservoirs with a combined storage totaling just over a million acre-feet (af). Stream flow is primarily derived from the spring snowmelt runoff. Precipitation in this area is winter-dominant, and is stored in the snowpack as a natural but seasonally declining reservoir for spring and summer water use. Water rights in the basin are over-appropriated such that a number of droughts in the last few decades have led to curtailment of water to junior water rights holders. Historical drought impacts, concerns over the effects of climate change on snowpack, the potential for increasing anadromous fish abundance in the basin, and future municipal water demands have been the impetus for the development of the Yakima River Basin Integrated Water Resource Management Plan
("IP"). The IP includes the following elements:
•
Reservoir Fish Passage
•
Fish Habitat Enhancement
•
Modifying Existing Structures and
Operations
•
Surface Storage
•
Market-Based Reallocation
•
Groundwater Storage
•
Enhanced Water Conservation
Fish passage projects, habitat enhancements, and instream flow augmentation are designed to support increases in salmon, steelhead, and other fish populations in the basin. Proposed infrastructure and water market development are intended to mitigate instream and out-of-stream drought impacts through increased storage and improved water trading, respectively. In particular, the surface water and groundwater storage projects would increase cumulative water storage by 500,000 af for a total of 1.5 million af in the basin. Many analyses of the IP and its components have been published to date. One of them, the "Four Accounts analysis" (2012), compares the net benefits of the IP as a whole against a no-IP alternative, and reports benefits ranging from $6.2 billion to $8.6 billion, and costs ranging from $2.7 billion to $4.4 billion. The reported Benefit/Cost (B/C) ratios are 1.4 and above, suggesting that the benefits of the IP as a whole outweigh its costs in aggregate net present value. These B/C results are provided for the full proposed implementation of the IP, but with limited exceptions, existing studies do not provide estimates of the net benefits of the individual components of the IP.
Section 5057 of the State of Washington Capital Budget for 2013 charges the State of Washington Water Research Center "to prepare separate benefit-cost [B-C] analyses for each of the projects proposed in the 2012 Yakima River basin water resource management plan [IP]". It further stipulates that "To the greatest extent possible, the center must use information from existing studies, supplemented by primary research, to measure and evaluate each project's benefits and costs." This report is in response to and framed by this charge.
Existing hydrologic and water management models of the Yakima River basin are used to examine the impact of proposed IP water storage projects, conservation, and proposed instream flows on drought impacts under a limited set of climate scenarios. A crop production model is used to assess the potential economic impact of IP projects and water market development on the economic risk of water curtailment. Municipalities in the basin are slated to receive water rights for future population growth under the IP, and these benefits to municipalities are estimated. The net benefits of fish passage for the five reservoirs in the basin, proposed IP instream flows, and habitat restoration in the basin for salmon and trout are assessed. Because each of the proposed IP projects would operate within the Yakima Basin hydrologic system, there are extensive interdependencies among projects, so that the benefits of one project are often dependent on the implementation status of other projects. We show that the value of any given water storage projects is highest when no other water storage project is implemented, and that water market development also affects the value of water storage projects. The economic tradeoffs between instream flows for fish and out-ofstream water uses are also dependent on these factors. Selected results include the following:
•
A snapshot of IP benefit estimates for moderate climate, water market, and baseline fish scenarios.
o
Agricultural irrigation benefits: $117 million.
o
Municipal and domestic benefits: $32 million.
o
Fish benefits: $1 to $2 billion.
•

When implemented together as part of the IP, the major water storage projects as a group do not pass a B-C test.

Net

present value for out-of-stream benefits (NB) from the IP range from -$2.2 to -$2.7 billion (B/C ratios from 0.02 to 0.20) depending on market and climate assumptions. Estimated benefits of proposed instream flow increases cannot make up for this shortfall.
•

No individual water storage project provides positive net benefits for out-of-stream uses when implemented as part of the full IP, even under the most adverse climate and restrictive market conditions.
•

Net benefits for out-of-stream use of individual water storage projects implemented with no other projects implemented are

negative, with some exceptions under the most adverse climate and water market conditions.

Based on moderate

climate and market outcomes, storage infrastructure projects implemented alone and without proposed IP instream flow augmentation result in the following estimated out-of-stream net present value and B/C ratios, none of which passes a B-C test:
o
Bumping Lake Expansion: NB=-$371 million; B/C ratio of 0.18.
o

Cle Elum Pool raise: NB= -$6 million; B/C ratio of 0.62. Under the most adverse climate scenario

and moderate market conditions, NB=$5 million with a B/C ratio is 1.35. It is also the most likely of the storage projects to satisfy a B-C test under moderate climate based on the sum of out-of stream and instream use value.
o
Keechelus to Kachess Conveyance: NB= -$110 million; B/C ratio of 0.20.
o

Kachess Drought Relief Pumping Plant: NB= -$107 million; B/C ratio of 0.46. Under the most

adverse climate considered, Keechelus to Kachess Conveyance and Kachess Drought Relief Pumping Plant together provide net benefits of $6 million and a B/C ratio of 1.02.
o
Passive Aquifer Storage and Recovery: NB=-$82 million; B/C ratio of 0.35.
o
Wymer Dam and Reservoir: NB= -$1,217 million; B/C ratio of 0.09.
o

Due to diminishing economic returns to water in the basin, increasing the number of IP storage

projects reduces the value of each water storage project implemented.
•

Instream flow benefits are insufficient to support the full suite of IP water storage projects given the net benefit shortfall in

out-of-stream benefits, but proposed instream flows may be supportable through market purchases.
o

Purchases of senior water rights to implement proposed IP instream flows would be less expensive

than providing instream flows via IP storage infrastructure, with estimated costs ranging from $85 million to $500 million depending on water market and climate conditions.
o

Because of its low cost, Cle Elum pool raise is most likely to satisfy a B-C test under moderate

climate based on the sum of estimated out-of-stream and instream benefits.
•

Reservoir fish passage projects are likely to provide positive net benefits through their pivotal role in supporting wild sockeye

reintroduction into the basin.

Fish passage is estimated to provide benefits ranging from about $0.95 to $1.7

billion and cost a total of $0.35 billion for all fish passage projects, which provide B/C ratios ranging from 2.7 to 4.9 for the individual fish Passage projects.
•

Fish habitat restoration is unlikely to satisfy a B-C test.

Results for the net benefits of instream flow purchases

and restoration investment together range from about $48 million to $294 million, which fall below their estimated combined costs of $450 million. IP restoration costs are estimated at $338 million, so our results suggest that restoration does not satisfy a B-C test. However, insufficient evidence exists to estimate the contribution of habitat restoration to fish passage productivity, which may affect the value of restoration.
•

Water markets show potential for reducing the impacts of basin-wide curtailment.

We estimate that potential net

gains from trade net of estimated transaction costs range between $216 million and $1.4 billion depending on climate, the extent of market development, and the extent of IP development. We show that markets act as a substitute for IP water storage infrastructure in that more active markets reduce the value of IP water storage infrastructure.
This report is not intended as a review of prior benefit-cost assessments of the IP, but it does utilize and extend existing IP analyses, and sheds some light on the sources and accuracy of previous B-C estimates. The Four Accounts analysis estimates agricultural benefits of 0.8 billion, municipal benefits of 0.4 billion, fish benefits ranging from $5 to $7.4 billion, and costs ranging from $2.7 billion to $4.4 billion, which together provide positive net benefits and B/C ratios of 1.4 and higher. Our estimated benefits are lower for each category for a host of reasons. Notably, the assumed climate regime has substantial consequences for agricultural benefits, and the baseline salmonid abundance in the Columbia River Basin has important consequences for fish benefits.
Despite differences in results, there are important similarities in our findings. Fish passage projects alone comprise a small percentage of median IP costs but provide about 75% to 80% of the estimated benefits of the IP. In contrast, IP investments for instream and out-of-stream uses account for about 66% of median costs but provide a small fraction of benefits, although this breakdown is not explicit in the Four Accounts analysis. This distribution of costs and benefits drives the strong results for fish passage.
In accordance to the legislative charge, this report focuses sharply on Benefit-Cost analysis to assess the
economic efficacy of individual projects. It does not include an economic

impact analysis

to assess the indirect

economic impact of IP investments on the local economy or the statewide impacts of the potential use of state funds to support the IP. Nor does this report cover costs and benefits from ongoing, non-IP programs within the basin whose outcomes may impact IP benefit metrics, such as fish translocation or hatchery operations. Due to data limitations, the majority of the results are based on simulation methods rather than statistical analysis, though statistical analysis is provided when feasible and useful. The consequence is that the majority of our results do not lend themselves to statistical confidence assessment, although robustness analyses are performed. Many necessary tradeoffs were made with respect to modeling approaches due to the dimensionality and scope of this research mandate. As is always true of modelling exercises, refinements are certainly possible and may provide more precision and accuracy for various aspects of this analysis.
Click Here for full 
WSU Washington State Water Research Center
Benefit/Cost Analysis of the Draft Report on the Yakima River Basin Integrated Plan.
The following are the complete comments YBSA sent to the WSU Water Resource Center on the benefit/cost analysis of the Draft Report on the Yakima River Basin Integrated Plan.
Click Here for the complete YBSA Comments
WSU study challenges economics of Yakima Basin water plan
Posted on December 4, 2014
By Kate Prengaman / Yakima Herald-Republic
kprengaman@yakimaherald.com
YAKIMA, Wash. — The most expensive projects in the Yakima Basin Integrated Plan for water management don't pass a cost-benefit analysis, according to a new study by Washington State University economists.
But supporters of the 30-year, $4 billion plan to improve drought security and salmon recovery in the Yakima River Basin call the findings misleading because each part of the plan is designed to work with the others for a net benefit, not to stand alone for economic scrutiny.
They call it a difficult case to grasp, but one in which the whole is greater than the sum of the parts.
"It's a false premise that what we have before us is a group of disparate projects," said Derek Sandison, the Department of Ecology's lead on the Integrated Plan. "The elements move together as a package or they don't move at all; it's like a three-legged stool, you can't remove one of the legs and still expect it to stand."
The plan, approved by the Legislature in 2013, is a groundbreaking deal led by the Bureau of Reclamation and the Ecology Department that gained the support of groups whose competing interests had kept them at odds for decades — farmers, environmentalists and the Yakama Nation.
The Legislature also separately requested a cost-benefit analysis on each major component of the plan: new dams, expanded reservoirs, new fish ladders, habitat restoration, water conservation and water markets.
The recently released report is a first draft of that analysis and a final draft is due to lawmakers later this month, said Jonathan Yoder, a WSU economist and lead author of the report.
Yoder and his team found that none of the water storage projects called for in the plan provide economic benefits that outweigh their costs, even under scenarios in which droughts become more common in the future. However, researchers found that investment in fish ladders for the basin's five reservoirs will really pay off.
On that point, the WSU study largely agrees with an earlier 2012 economic analysis of the plan by the Bureau of Reclamation. The bureau found that economic benefits for the plan as a whole ranged from $6.2 billion to $8.6 billion, but primarily from the value of salmon recovery.
"It's no surprise, this study comes up with what we already came up with," said Urban Eberhart, a Kittitas County grower and member of the Integrated Plan's executive committee.
Last year, Sen. Jim Honeyford, R-Sunnyside, who sponsored the plan, told the Herald-Republic that this study was added to the capital budget by opponents of the plan who hoped to discredit it. Eberhart agreed.
"This is politics," Eberhart said. "You can't break it up into individual pieces and look at each part in isolation, it doesn't work that way. They do work as an integrated plan."
But Yoder said his study offers a new way of looking at the various parts of the plan and how each aspect affects the others.
Sometimes, the benefits of one project are enhanced by others, such as how fish passage and habitat restoration both encourage salmon recovery. And fish ladders require sufficient water supplies to function. But in the case of water storage projects designed to provide more supply during times of drought, each project actually reduces the value of the others in Yoder's analysis.
"There are diminishing marginal returns to additional water storage," Yoder said. "The value of just one project is larger than the value of the same project if all the other water storage projects are also implemented."
It all comes back to the basics of supply and demand: During a water shortage, each gallon of water becomes more valuable. But if there's more water, that additional water has less value.
The plan also calls for developing water markets that would allow farmers to buy and sell water during droughts so that the available water is used in the most valuable way, such as keeping an apple orchard alive, rather than raising a crop of hay. But if those markets are working well, Yoder said, it reduces the economic pain of droughts, which then reduces the value of additional water storage.
But that's exactly why this type of economical analysis is problematic, Sandison said.
It's not about maximizing the value of water, he said, but ensuring that the region has enough supply to weather droughts, for both farmers and fish. Estimates show that the basin needs 450,000 more acre-feet of water storage and that's what the plan aims to do, he added.
"This is clearly a case where the whole is greater than the sum of the parts, but we're always going to have the challenge to explain that to people," Sandison said.
While seemingly counterintuitive, adding that expanded water supply for drought years only provides a small economic benefit relative to the cost of the projects, under the analysis used by the report.
Sandison said that's because droughts don't happen every year, and although they are expected to happen more often with climate changes, no one really knows exactly how common they will become.
Also, the analysis only looked at the direct economic gains from reducing the impact of drought, not how the agricultural economy then affects the rest of the region's finances.
"We're trying to keep the agricultural economy intact, not grow it, so it's hard to come up with accurate valuation," Sandison said. "What did the 2005 drought really cost us? No one can answer that."
Michael Garrity, Washington conservation director for the conservation group American Rivers, said that the economic analysis also lacks a way to measure the benefits from restored habitat, healthier ecosystems and the recovery of threatened species, such as steelhead and bull trout.
Putting an economic value on salmon recovery is difficult as well, since fish swimming in rivers lack a conventional price tag.
The WSU team used the same method to calculate the value of the plan's fish benefits as the Bureau of Reclamation did: predicted population gains from implementing the plan combined with a survey about how much people would be willing to pay for varying levels of salmon recovery.
Under that formula, the value of each salmon can end up at thousands of dollars. But, no one is actually purchasing the salmon. Instead, everyone who values salmon recovery benefits, allowing the value of each fish to build up, Yoder said.
It may sound fishy, but Yoder said it's the best method they had to value salmon recovery, in addition to the smaller value of new fisheries.
But the fact that most of the economic benefits for the whole plan come from a subjective survey about the value of salmon concerns Miles McPhee, a climate scientist from Naches.
McPhee said that the more he learned about the survey, given in the late 1990s to people around the Columbia Basin, the more doubts he had about the Integrated Plan's actual benefits.
"It just seems like a phony justification for the dams," McPhee said. "Why spend all that money if the actual benefits are really quite small?"
In fact, according to Yoder's analysis, the largest of the economic benefit comes from just one salmon species: sockeye. Sockeye need lake habitat, and so the population is expected to boom if fish ladders are added to all five of the region's reservoirs, starting with the plans underway at Lake Cle Elum.
Yoder's analysis shows the most valuable project is fish ladders, but supporters of the plan say the success of fish ladders depends on having adequate water supply in drought years.
Yoder said that his analysis attempted to capture those types of connections, and he thinks it was successful.
"It has been said that you cannot disaggregate the Integrated Plan in a meaningful way, economically or politically, but I think that's not entirely true and our results show that," Yoder said.
Sandison disagreed, saying that the integrated approach was necessary, both in terms of water management and political support.
"The social contract between the stakeholders in the Yakima Basin is real, it's not lip service. All the elements of the plan have to move together or this doesn't move," Sandison said. "We're always going to be fighting the notion that this can be disaggregated, when it just can't."
Below are important documents concerning the Yakima Basin Integrated Plan.
The overview document below was prepared to identify the important information in the Normandeau Associates Technical Review of the Yakima Basin Integrated Plan. Click Here for the overview.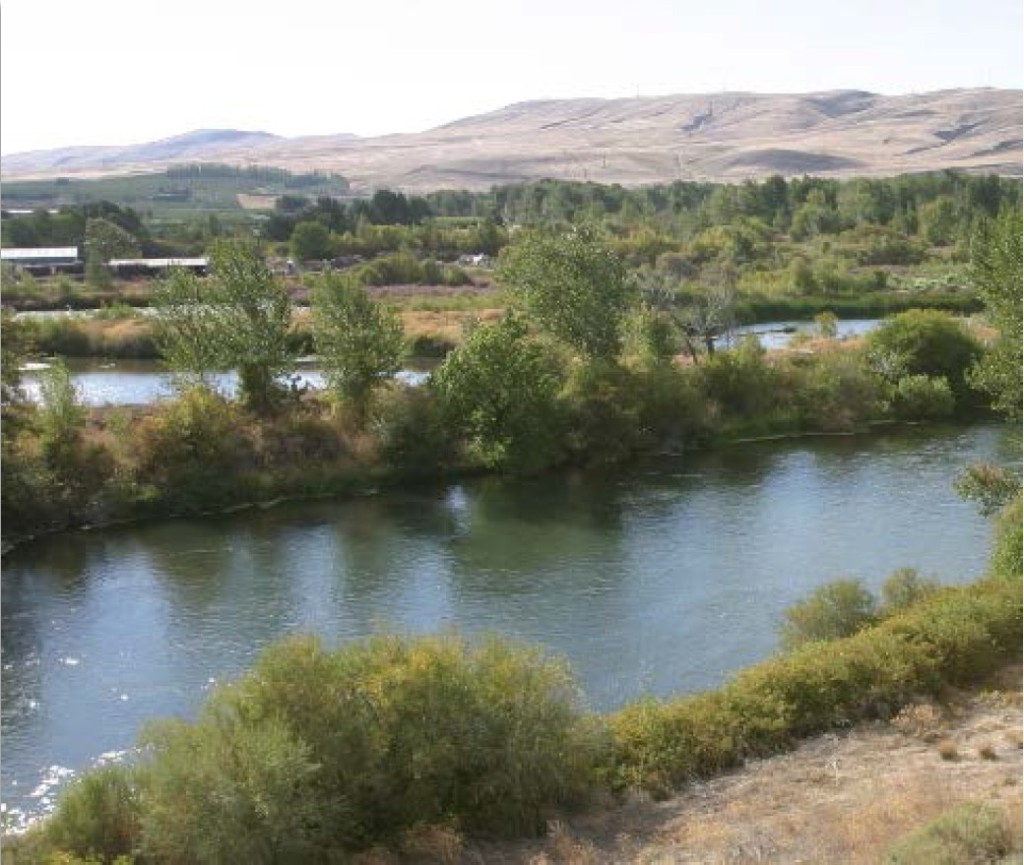 Yakima River
For the complete Normandeau Report Click Here.
For the Infograph, "Enough Water in the Yakima Basin? No!" Click Here. The graph (with Citations) describes the possible shortfall that will occur in the storage components in the Integrated Plan.
from National Climate Assessment Report
Introduction
With craggy shorelines, volcanic mountains, and high sage deserts, the Northwest's complex and varied topography contributes to the region's rich climatic, geographic, social, and ecologic diversity. Abundant natural resources – timber, fisheries, productive soils, and plentiful water – remain important to the region's economy.
Snow accumulates in mountains, melting in spring to power both the region's rivers and economy, creating enough hydropower (40% of national total) (NWPCC 2010) to export 2 to 6 million megawatt hours/month (EIA 2011). Snowmelt waters crops in the dry interior, helping the region produce tree fruit (#1 in the world) and almost $17 billion worth of agricultural commodities including 55%, 15%, and 11% of U.S. potato, wheat, and milk production respectively (USDA 2012a, 2012b).
Seasonal water patterns shape the region's flora and fauna, including iconic salmon and steelhead, and forested ecosystems, which cover 47% of the landscape (Smith et al. 2009).
Water-related Challenges
Changes in the timing of streamflow related to changing snowmelt have been observed andwill continue, reducing the supply of water for many competing demands and causing far-reaching ecological and socioeconomic consequences.
Description of observed and projected changes
Observed regional warming has been linked to hydrologic changes in basins with significant snowmelt contributions to streamflow. Since around 1950, area-averaged spring snowpack decreased 0% to 30% (depending on method and period of analysis) (Mote 2006; Pierce et al. 8 2008), spring snowmelt occurred 0 to 30 days earlier (Stewart et al. 2005), late winter/early spring streamflow increased (Hidalgo et al. 2009) and summer flow decreased 0% to 15% as a fraction of annual total flow (Luce and Holden 2009; Stewart et al. 2005), and winter flow increased, (U.S. Bureau of Reclamation 2011a) with exceptions in smaller areas and shorter time periods (Mote et al. 2008a).
Yakima wants to bank Naches River water in aquifer
By Kate Prengaman / Yakima Herald-Republic, April 13, 2014
Yakima's four municipal wells normally pull water from a deep aquifer, but with a few adjustments, two of the wells can be reversed to send water back into the ground. These dual-action wells are about to become very handy. If temporary permits are approved, as expected, Yakima plans a test project in May to determine if the aquifer can be used to store water from the Naches River. "We want to take water out of the river when it's available and put it in (the aquifer) when our customers don't need it," said David Brown, the city's water and irrigation manager. "If we store it, then we can use it during drought years."
Yakima relies primarily on the Naches River for its domestic water. But some of that supply falls under junior water rights, which can be cut during a drought. The city also has rights to the aquifer, which accounts for about 20 percent of the city's supply during a normal year, Brown said. But during the 2005 drought, the city relied on that groundwater for about half its supply, he said. Brown envisions a system where the city takes advantage of its current water rights, existing wells and distribution system, and the natural groundwater reservoir to improve its ability to meet demands during times of drought. But the technology is relatively new in Washington and the path to getting the necessary permits is complicated. However, because this project is part of the Yakima Basin's Integrated Plan for water management, the state funding of $150,000 is supporting it.
Taking stored water from the aquifer during a drought, rather than from the river, benefits all the basin's water users, from farmers to fish, Brown said. Advocates of the technology, known as Aquifer Storage and Recovery, or ASR, point out that using aquifers as reservoirs costs less and has fewer environmental consequences than building surface storage. Dan Haller, an environmental engineer who works on ASR projects, said that while the technology is still new here, several Eastern Washington communities, including Walla Walla, Kennewick and White Salmon, are developing such projects. None, however, has received final permits.
Yakima has been researching ASR since 1998, when a consultant noted that the geology below the city would be well suited to storing water. The aquifer beneath Yakima is basically shaped like a bowl, explained Chris Pitre, a hydrogeologist for Golder Associates who has worked with the city for years. But the bowl leaks a little bit. Water in the aquifer slowly moves through a layer of sandstone to eventually feed into the Yakima River. "What we have to figure out is if we store some water in the ground, how long can we retain it?" Brown said. The pilot project planned for May will help answer that question: the city will pump water into the aquifer for five days and then use monitoring wells to track it as it moves for several months.
This will be the city's second such test. The first was done in 2000 at a different well, Pitre said. Running a model with data from that experiment, they found that about 40 percent of the water would probably "leak" out over 10 years. Since the city's goal is to use this technology as drought insurance, Brown said they don't expect to get all their water back. Instead, he said, having additional supply available when they really need it will be worth some slow loss over time.
Droughts are predicted to become more frequent in the region, Brown said, and he believes this storage, along with conservation measures, will help the city prepare for that future. Moreover, the "lost" water eventually adds to the flow of the Yakima River, which has environmental benefits. So the pilot project will help the city learn how much of the added water it can expect will remain in the aquifer over time. But, Pitre said state policy is not clear on how Ecology will determine how much water cities will be allowed to recover from these systems.
State law allows ASR projects to only withdraw the water that remains from what was put in, but it's complicated to regulate because each aquifer loses water at a different rate. Because of that, Ecology has decided to set the recovery limits on a case by case basis during the permitting process, said Guy Gregory, a hydrogeologist with Ecology. Another challenge for permitting these projects is ensuring that they meet groundwater quality standards. "The state is trying to encourage ASR as a responsible water resource management tool, but they are bumping into this (water quality) regulation we also have to deal with," Pitre said.
Yakima plans to treat the water, just like the drinking water, before it puts it into the ground. But Haller explained that water quality regulations for groundwater can actually be stricter than drinking water standards, because they are designed to prevent pollution. Yakima treats its water with chlorine to kill pathogens to prevent disease, but that process creates chemicals known as disinfection byproducts, Haller said. The chemicals are considered safe to drink. But since they don't naturally occur in the groundwater, they can be treated like pollution by regulators. "You have to go through an evaluation of whether it is reasonable to treat and remove (the byproducts) or whether it is OK to degrade groundwater slightly to do this project," Haller said.
Once the water quality data has been analyzed, the director of the Department of Ecology can determine whether the project's benefits outweigh the risks and allow it to move forward. That's what Ecology staff has recommended for the Kennewick project and that's what Pitre believes will happen for Yakima.   During the experiment in 2000, Pitre said the water quality analysis showed that after six weeks the byproducts broke down into water, chloride and carbon dioxide. The pilot project operating under a temporary permit this summer will also study the water quality, Pitre added, and help the city get a permanent permit.
Once it has that permit, the city can start storing water right away, without needing any construction. It's one piece of the Integrated Plan that could be up and running quickly. Eventually, Brown said, the city could work with other water users, like the county or irrigation districts, to store water for them as well. "This has lots of long-term potential," Brown said. "There is hundreds of millions of gallons of free space in this reservoir."
 Click on image to enlarge. From Yakima River Basin Integrated Water Resource Management Plan
    
58196