Welcome
More about Normandeau Associates Inc. Click Here
More about Mead & Hunt Inc. Click Here
Cle Elum Pool Raise
The Cle Elum Pool Raise Project (Pool Raise) was authorized for implementation, including construction, under the Yakima River Basin Water Enhancement Project (YRBWEP) Title XII, October 31, 1994.  It has also been identified as a component of the Yakima River Basin Integrated Water Resource Management Plan (Integrated Plan).  Section 1206 of Title XII includes authorization to modify the radial gates at Cle Elum Dam to provide an additional 14,600 acre-feet of storage capacity in Lake Cle Elum; provide for shoreline protection of Lake Cle Elum; and provide environmental mitigation for impacts from the Project, as necessary.
The Pool Raise consists of raising the maximum water level of Cle Elum Lake by 3 feet from a current maximum elevation of 2,240 feet to 2,243 feet.  The Pool Raise would increase the volume of available storage in Cle Elum Lake by approximately 14,600 acre-feet, which would be used to improve instream flows for fish.
http://www.usbr.gov/pn/programs/eis/cleelumraise/index.html
Keechelus-to-Kachess Convey

ance Project
The Bureau of Reclamation and Washington State Department of Ecology are conducting a feasibility study for the Keechelus-to-Kachess Conveyance (KKC) Project to examine the feasibility and acceptability of conveying water from the Keechelus Reservoir to Kachess Reservoir in order to reduce flows in the upper Yakima River for fish rearing and habitat, and to augment flows into Kachess Reservoir to improve the capability for refill in dry years.
The KKC Project is one of several potential structural and operation changes projects being analyzed to improve water resources management in the Yakima River basin.  The Study is being performed under the Yakima River Basin Water Enhancement Project (YRBWEP) Yakima River Basin Integrated Water Resource Management Plan (Integrated Plan).  The purpose of the Integrated Plan is to provide additional water supply for agriculture and municipal and domestic uses as well as improving ecological conditions for fish.  The Integrated Plan was developed under authority provided to Reclamation by under the 1979 YRBWEP Feasibility Study Authorization (Public Law 96-162, December 28, 1979); existing YRBWEP Act (P.L. 103-434, October 31, 1994, as amended by P.L. 105-62, October 13, 1997; and P.L. 106-372, October 27, 2000).  The Integrated Plan, in effect, constitutes Phase 3 of YRBWEP.
The KKC Feasibility Study will be performed concurrently with the Kachess Drought Relief Pumping Plant (KDRPP) (formerly identified as Kachess Reservoir Inactive Storage) Feasibility Study.  The KDRPP Feasibility Study involves analyses of accessing reservoir water currently stored below the elevation of the existing reservoir outlet works.  Each separate study will produce its own feasibility reports including a planning report, feasibility design report, and economics technical report.  However, due to the potential connectivity of the two projects, a single environmental impact statement (EIS) will be prepared, which will include site-specific environmental analyses for both proposed projects.
http://www.usbr.gov/pn/programs/eis/kkc/index.html
Kachess Drought Relief Pumping Plant
(Kachess Reservoir Inactive Storage Project)
The Bureau of Reclamation and Washington State Department of Ecology are conducting a feasibility study for the Kachess Drought Relief Pumping Plant (KDRPP) (formerly identified as Kachess Reservoir Inactive Storage Project) to examine the feasibility and acceptability of withdrawing an additional 200,000 acre-feet of water from Lake Kachess and transferring that flow into the Yakima River for beneficial downstream use in a drought year.  
The KDRPP is one of several potential surface water supply projects being studied to improve water resources management in the Yakima basin being developed under the Yakima River Basin Water Enhancement Project (YRBWEP) Yakima River Basin Integrated Water Resource Management Plan (Integrated Plan).  The purpose of the Integrated Plan is to provide additional water supply for agriculture and municipal and domestic uses as well as improving ecological conditions for fish.  The Integrated Plan was developed under authority provided to Reclamation by under the 1979 YRBWEP Feasibility Study Authorization (Public Law 96-162, December 28, 1979); existing YRBWEP Act (P.L. 103-434, October 31, 1994, as amended by P.L. 105-62, October 13, 1997; and P.L. 106-372, October 27, 2000).  The Integrated Plan, in effect, constitutes Phase 3 of YRBWEP.
The KDRPP Feasibility Study will be performed concurrently with the Keechelus-to-Kachess Conveyance (KKC) Project Feasibility Study.  Each separate study will produce its own feasibility reports including a planning report, feasibility design report, and economics technical report.  However, due to the potential connectivity of the two projects, a single environmental impact statement (EIS) will be prepared, which will include environmental analyses for both proposed projects.
http://www.usbr.gov/pn/programs/eis/kdrpp/index.html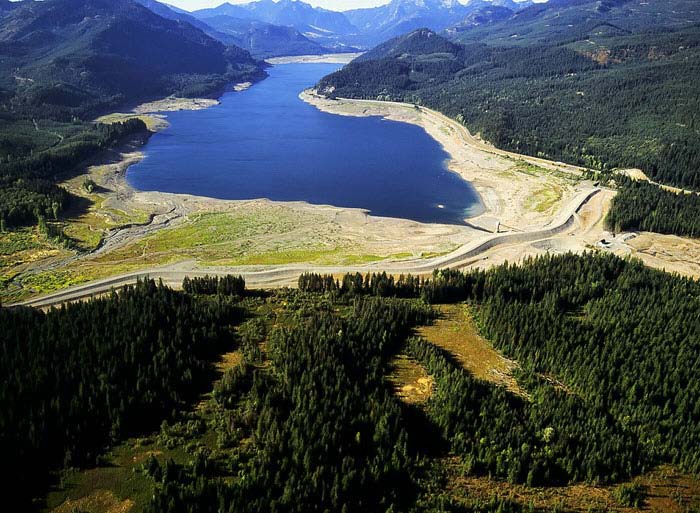 Lake Keechelus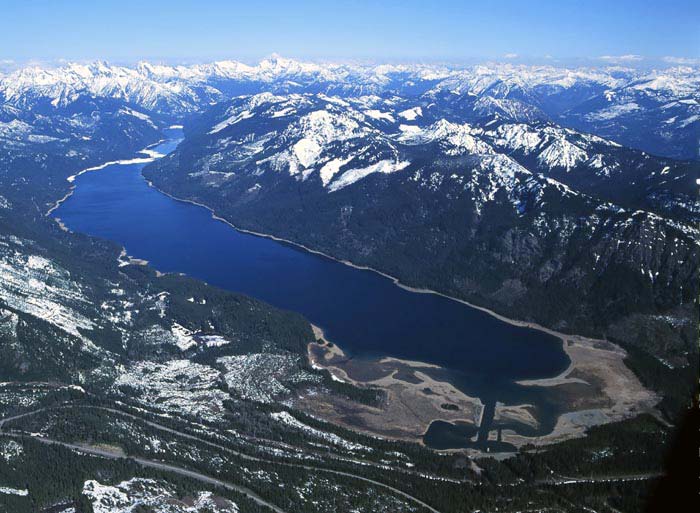 Lake Kachess
Potential Keechelus to Kachess Pipeline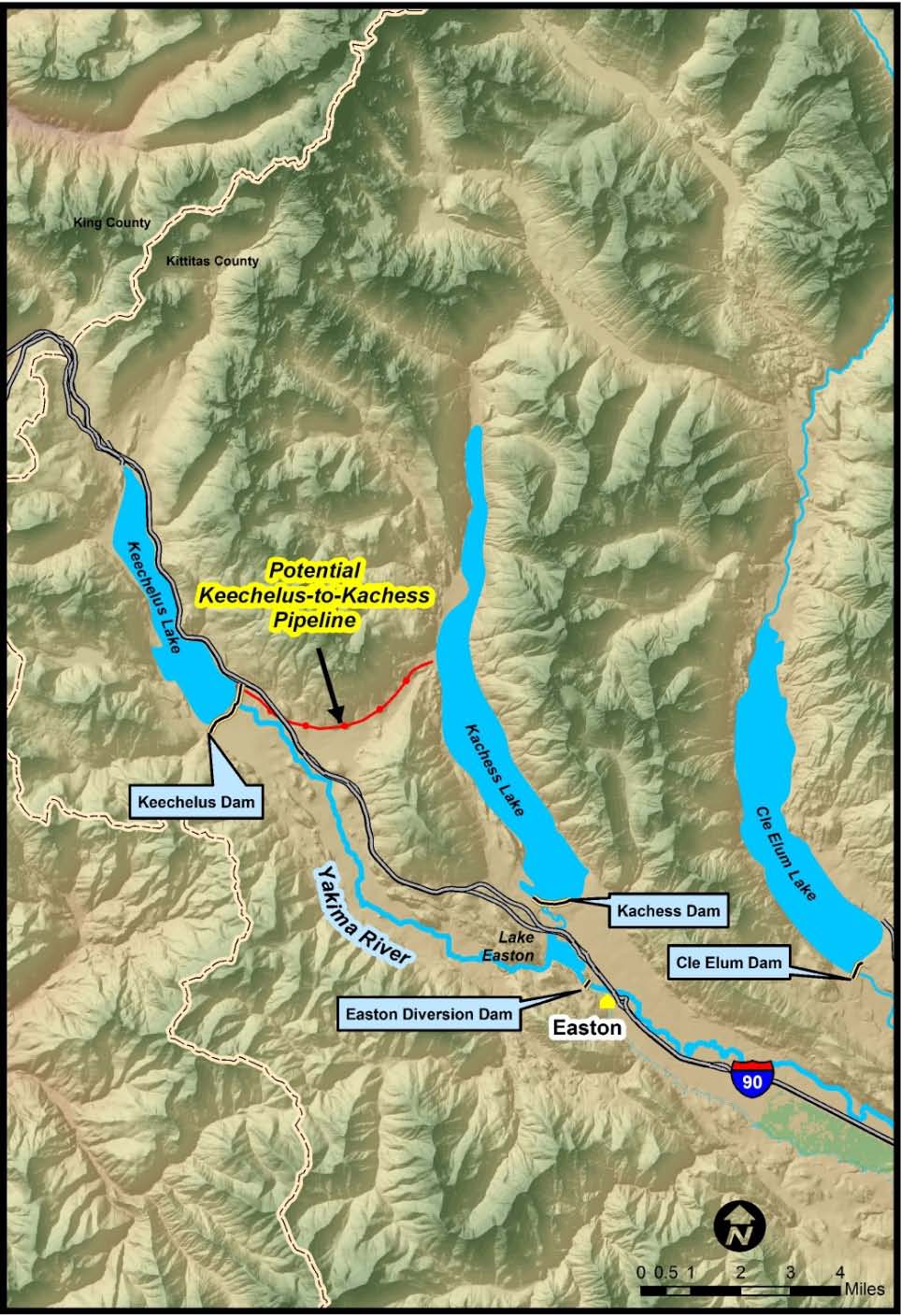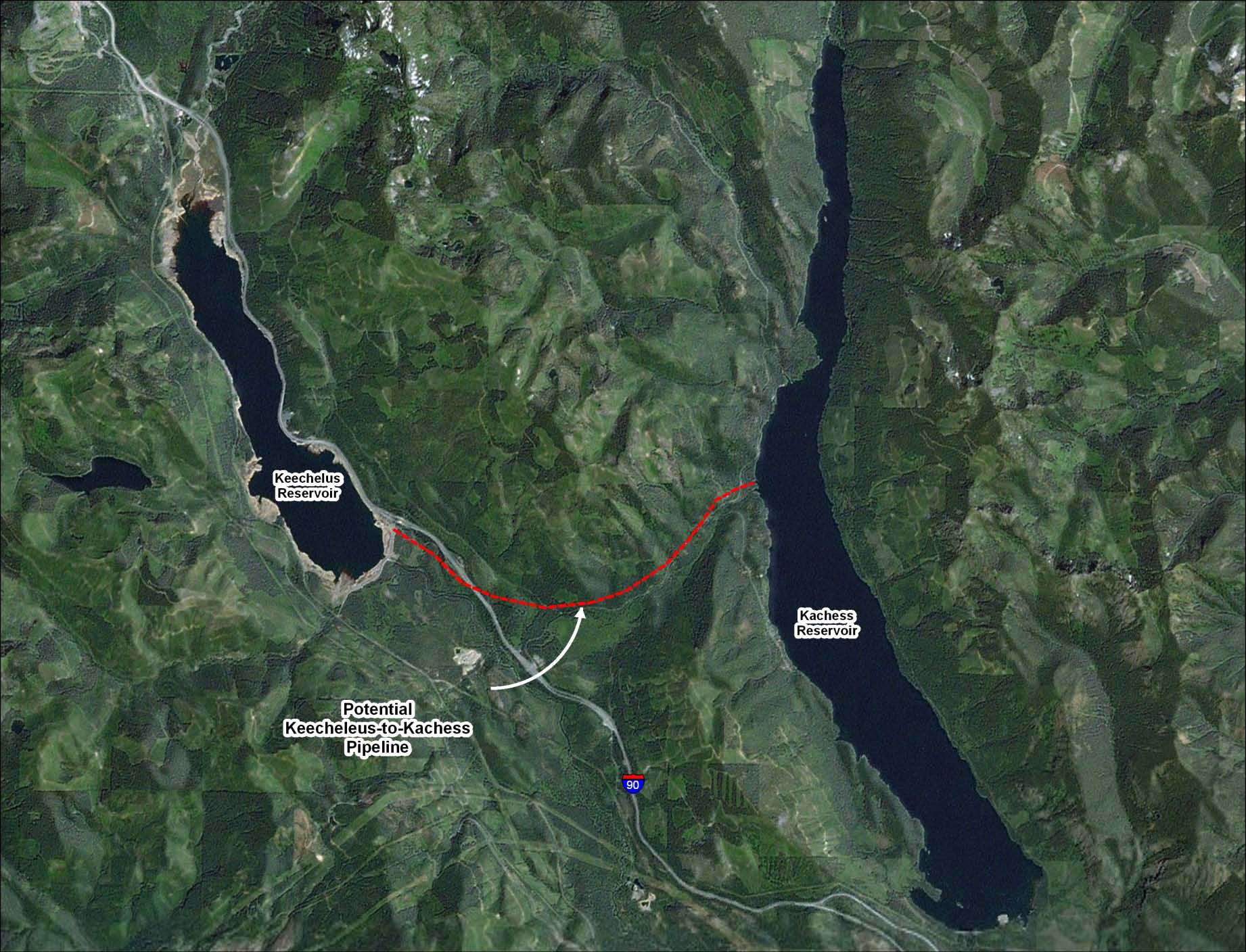 Longtime foes unite over water plan for Eastern Washington
After years of water wars, Eastern Washington farmers, the Yakama Indian Nation and conservationists have teamed up to push a multibillion-dollar proposal that offers something for all of them: more water, fish passages at dams and more land protected from development. But will it fly?
Seattle Times Olympia bureau
Transforming the Yakima River Basin
Mount Baldy ranch, KITTITAS COUNTY — When Urban Eberhart looks out over this deep, sage-brush-covered valley south of Ellensburg, he envisions a towering concrete wall stretching 3,200 feet across the expanse to hold back 50 billion gallons of water.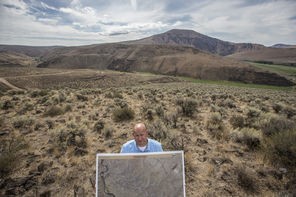 Steve Ringman / The Seattle Times
Urban Eberhart, an Ellensburg farmer, holds what could be a glimpse of the future: a state Ecology map of the Wymer Dam and Reservoir that he hopes will be built directly behind him across this valley.
The Wymer Dam and Reservoir is part of a much larger, roughly $4.2 billion proposal to provide more water for fish, and farmers like Eberhart, in the drought-prone Yakima Valley over the next 30 years. The effort, if it pans out, would be the biggest thing to hit the region since the Grand Coulee Dam was completed in 1942.
"This is how we survive," says Eberhart, 52, who had to truck in water during one drought to keep his fruit trees alive. "Without this, we don't make it."
There's a chance Eberhart will get his wish. Groups that once fought themselves to a standstill — including farmers, big-name environmental groups and the Yakama Indian Nation — have joined together to persuade Congress and the state Legislature to help fund the projects.
The all-for-one strategy has brought unity by providing something for everybody. Environmental groups get 50,000 acres put under state protection. The tribe would get fish passages and other improvements to restore salmon runs largely wiped out by past dam construction. Farmers would get new and bigger reservoirs and a 5-mile-long tunnel to move water between lakes.
There's also broad support among state Republican lawmakers. And Democratic Gov. Jay Inslee urges action too, arguing in part that climate change will bring more frequent and severe droughts. These projects, supporters say, would help maintain a thriving agricultural industry and revive salmon runs that once numbered in the hundreds of thousands.
U.S. Gov. Jay Inslee
Yet, even though there's unprecedented cooperation to see the proposal through, critics remain.
Some environmental organizations, including the Cascade chapter of the Sierra Club, oppose new water storage, including expansion of a reservoir at Bumping Lake that would inundate old-growth forest.
Others, including Democratic House Capital Budget Chairman Hans Dunshee, complain about the cost, saying the plan is bloated with expensive projects that were included to keep disparate interests on board.
House Democrat Hans Dunshee
The overall price of $4.2 billion is in 2012 dollars. That figure does not include financing, which alarms Dunshee even more. He wants to limit the state's share to no more than half the cost.
The Alaskan Way Viaduct replacement project, by comparison, is expected to cost about $3.1 billion.
Supporters say water users, including farmers, would pay back their share of the cost over time. But Dunshee said that's not written down anywhere, and no one has told him that.
"If there's no repayment plan and agreement, it's a very sweet deal for them," he said. "Nobody sells you a house without having a repayment plan in place."
Norman Whittlesey, a retired professor of agricultural economics at Washington State University, says the proposal "is a bit of a hoax on the public the way it's packaged. Everybody in the Yakima Valley is going to get something out of this, and all they have to do is get the taxpayer to pay for it."
Where the money would flow
There was a time when the interests now pushing the Yakima Basin Integrated Plan could barely talk to each other.
"In the past we've been at odds, in honest-to-God shouting matches between the two sides," said Mark Charlton, of Charlton Farms in Ellensburg, a veteran of the water wars.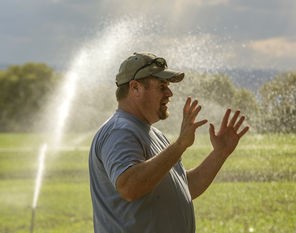 Steve Ringman / The Seattle Times
Fifth-generation farmer Mark Charlton describes drought and water use on his farm near Ellensburg. Charlton recalls "honest-to-God shouting matches" between the sides in the water wars before the current plan was drawn up.
Environmental groups and the tribe opposed the reservoirs because the proposals didn't do enough to restore fisheries and protect habitat. And farmers opposed efforts to restore fisheries because they didn't include more water for agriculture.
What led to the truce?
Money.
Or rather, the idea they each have a better shot at getting their projects funded by working together.
"There's no doubt that if you put a bunch of people in a room and you ask them 'what will it take for you to support this,' that's going to be more expensive than if you just talked to the irrigators or you just talked to the enviros," said Jay Manning, a former state Department of Ecology director who is representing several conservation groups supporting the plan.
But, Manning said, there is nothing in the plan where "I would say, well that's kind of fluff, you don't really need to do that."
For certain environmental and conservation groups, including American Rivers and the Wilderness Society, a key component was the Legislature's decision this year to buy 50,000 acres of private land in the Teanaway River area in Eastern Washington for $100 million.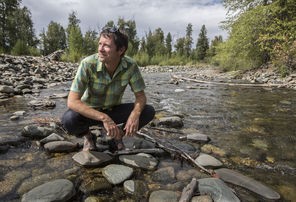 Steve Ringman / The Seattle Times
Michael Garrity of American Rivers crouches in the Teanaway, which is being protected from development.
The deal is expected to be finalized by the end of the month.
The Yakama Nation, in addition to more water for river flows, would get fish passages on several dams, including the Cle Elum, Keechelus and Kachess dams, to help restore salmon and bull trout at a projected cost of more than $400 million.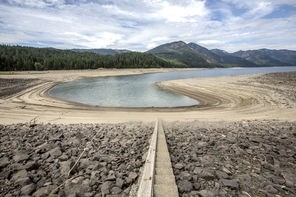 Steve Ringman / The Seattle Times
Lake Cle Elum, photographed from the middle of the Cle Elum Dam in late summer, is used for irrigation and is low at that time of the year. Under the proposal by environmentalists, farmers and the Yakama Nation, a fish passage would be constructed at the dam.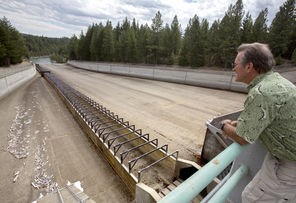 Steve Ringman / The Seattle Times
Dave Fast, research manager with Yakama Nation Fisheries, looks out over a temporary spillway that allows salmon to make it over the Cle Elum Dam.
And farmers, theoretically, would get enough water to survive future droughts.
The package includes installing an outlet in Lake Kachess to access more water, building the new Wymer reservoir that would use pumps to bring in water from the Yakima River, enlarging an existing reservoir at Bumping Lake, and digging a 5-mile-long tunnel — large enough to walk through — under Interstate 90 to transfer water from Lake Keechelus to Lake Kachess during high-runoff periods, all at a cost of roughly $2.5 billion.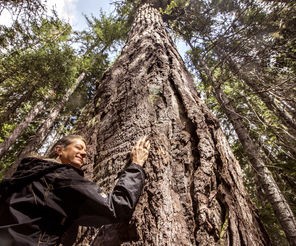 Steve Ringman / The Seattle Times
The 400-year-old Douglas fir in the back yard of Susie Cyr's cabin is part of an old-growth area that would be flooded if a new dam is constructed under the plan.
Other projects, including habitat restoration and efforts to improve water conservation, bring the total price tag to around $4.2 billion, a figure that doesn't count inflation or financing.
The plan aims to create an additional 590,000 acre-feet of water. An acre-foot of water is enough to cover an acre to a depth of one foot.
Climate: "Something is different"
Eberhart argues the region needs every drop.
The fruit and hay farmer, with a clean-shaven head and hyperkinetic personality, is one of the biggest cheerleaders for the basin plan. He'll talk your ear off about the constant threat of drought, and how in 1994, there was a drought so severe he had to rent a truck to haul in water from a well to keep his fruit trees alive.
"It was horribly expensive. And that's just a survivability thing," Eberhart said, although in this case his apple and pear trees never fully recovered and he ended up removing them.
Climate change, he argues, will bring warmer weather to the mountains, and less water stored as snow. Instead it will fall as rain and simply flow downstream during the winter months — when farmers don't need it.
"Something is occurring that is different than before. Our snowpack is not materializing and the consistency and severity of our drought years are increasing. It doesn't matter what you call it, I call it climate change, but something is different," he said.
Eberhart argues everything in the plan is needed to help agriculture and fish — the region's way of life — survive.
Climate models do project the region will get less snow, said Professor Philip Mote, director of the Oregon Climate Change Research Institute at Oregon State University.
He agreed shrinking snowpacks are likely to lead to more droughts in the Yakima Basin. But there's no consensus on that point. Some scientists say it's too early to make that call.
Mote said that, in any case, spending billions to store additional water may not be the answer. He said an analysis is needed to look at climate-change projections and whether the cost of building new water storage is worth the benefit.
Economic benefits in question
A 2012 state and federal study put the economic benefits of the overall project at roughly $6 billion to more than $8 billion over the next 100 years.
However, Dunshee, D-Snohomish, questions the analysis. "It's really pretty bad junk science," he said.
He says the vast majority of the economic benefit described in the report — more than 80 percent on the high end — is pegged to the recovery of salmon runs.
Creating fish passages on dams, improving habitat and providing more water for stream flows are projected to bring back salmon in large numbers.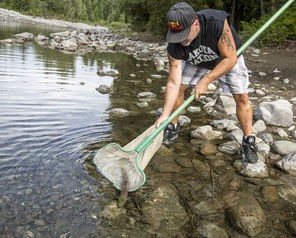 Steve Ringman / The Seattle Times
Joe Hoptowit, with the Yakama fisheries, releases a sockeye into the Cle Elum River above the dam, which has halted fish passage since it was built.
The government study used a 15-year-old survey of Washington state residents that looked at their willingness to pay for improved fisheries. They call it the "passive value" of fish.
The study extrapolated the survey results to the populations of Washington and Oregon and projected the value of recovered fisheries to be as high as $7.1 billion.
Whittlesey, the retired WSU economics professor, says that "what they are doing is using the value created by the projected fisheries to justify expenditures of other projects in the Yakima River — none of which contribute much if anything to the fisheries."
Derek Sandison, director of the Columbia River office for the state Department of Ecology, stood by the report, saying in an email: "it represents the most rigorous evaluation of societal demand for the existence of salmon and steelhead available for any large portion of the Columbia River basin."
Sandison also said the benefit of additional water for fisheries should not be discounted.
In testimony before the House Capital Budget Committee in February, Sandison said roughly 450,000 acre-feet of water — out of the 590,000 acre-feet added under the plan — would be available for out-of-stream uses including irrigation.
The rest would go to fish, and even more water would be added to the river flows through conservation, he said.
"You can build fish passage facilities at all the dams in the basin and construct a myriad of habitat projects, but if there isn't sufficient flow … there won't be many fish benefits," he wrote in an email.
Big hurdles remain
For now, the Yakima Basin plan is moving forward.
The Teanaway purchase is nearly complete. Work could begin on a Cle Elum Dam fish passage by the end of 2015, and on the Lake Kachess outlet in 2016 to allow access to an additional 200,000 acre-feet of water. A host of other projects will move along in the planning process.
Most are subject to state and federal funding, which is not a sure thing.
Half the upfront funding for the projects is supposed to come from the state, which is slowly emerging from a long recession. Most of the rest is supposed to come from a Congress that can't seem to agree on anything.
Sandison said the intent is for water users to pay their share of costs for the projects, but he acknowledged there's nothing in writing at the moment that clearly says that. It's also not clear over what time period the repayment would occur, or whether it would include interest.
Dunshee worries the sheer scale of the effort could take money away from other areas of the state.
"This just knocks the hell out of everything else we want to do," he said, arguing that cheaper ways to approach the problem could include better conservation of water in the Yakima Basin.
Eberhart says farmers have already done a lot of conservation and will do more. And, he points out, "You can't do it all with conservation because when there's no water to put into the canals, you can't save it."
Supporters are keeping their fingers crossed that all the strange bedfellows remain committed to the effort.
Manning predicts that if critics are successful in stopping the effort, nothing will get done.
"We can all stop each other, but we can't move our own agenda forward," he said. "To me, if we can't figure out a way to do this as a society, then welcome back to the water wars for the next 30 years."
Andrew Garber: 360-236-8268 or agarber@seattletimes.com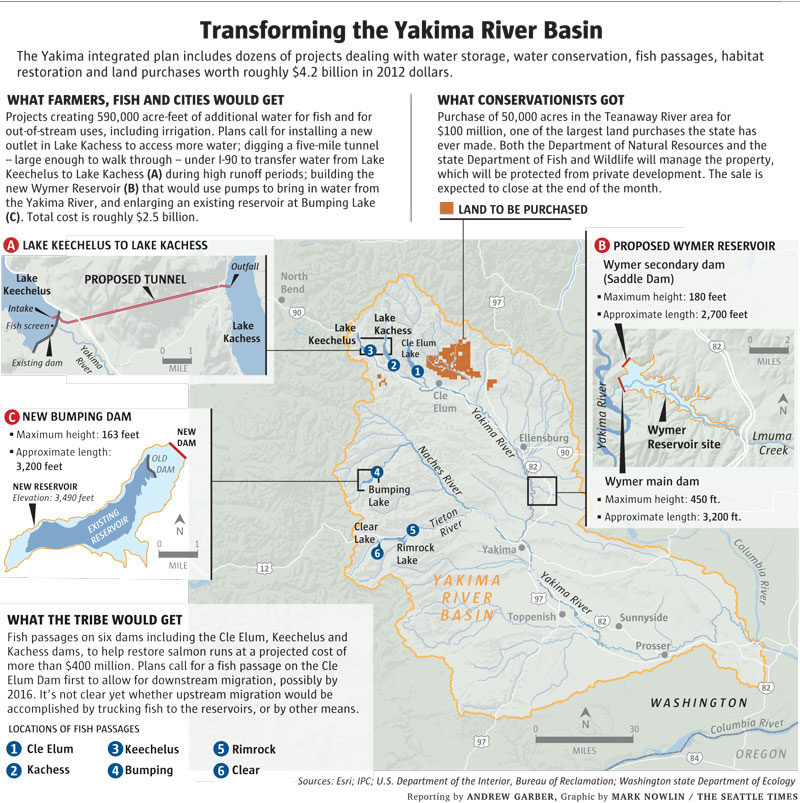 A New Look at Snowpack Trends in the Cascade Mountains
Mark T. Stoelinga, Mark D. Albright, and Clifford F. MassDepartment of Atmospheric Sciences, University of Washington, Seattle, Washington
This study examines the changes in Cascade Mountain spring snowpack since 1930. Three new time series facilitate this analysis: a water-balance estimate of Cascade snowpack from 1930 to 2007 that extends the observational record 20 years earlier than standard snowpack measurements; a radiosonde-based time series of lower-tropospheric temperature during onshore flow, to which Cascade snowpack is well correlated; and a new index of the North Pacific sea level pressure pattern that encapsulates modes of variability to which Cascade spring snowpack is particularly sensitive.
Cascade spring snowpack declined 23% during 1930–2007. This loss is nearly statistically significant at the 5% level. The snowpack increased 19% during the recent period of most rapid global warming (1976–2007), though this change is not statistically significant because of large annual variability. From 1950 to 1997, a large and statistically significant decline of 48% occurred. However, 80% of this decline is connected to changes in the circulation patterns over the North Pacific Ocean that vary naturally on annual to interdecadal time scales. The residual time series of Cascade snowpack after Pacific variability is removed displays a relatively steady loss rate of 2.0% decade−1, yielding a loss of 16% from 1930 to 2007. This loss is very nearly statistically significant and includes the possible impacts of anthropogenic global warming.
The dates of maximum snowpack and 90% melt out have shifted 5 days earlier since 1930. Both shifts are statistically insignificant. A new estimate of the sensitivity of Cascade spring snowpack to temperature of −11% per °C, when combined with climate model projections of 850-hPa temperatures offshore of the Pacific Northwest, yields a projected 9% loss of Cascade spring snowpack due to anthropogenic global warming between 1985 and 2025.
Click for full study http://journals.ametsoc.org/doi/abs/10.1175/2009JCLI2911.1
Science News
Warming Climate Is Affecting Cascades Snowpack In Pacific Northwest
May 15, 2009 — There has been sharp disagreement in recent years about how much, or even whether, winter snowpack has declined in the Cascade Mountains of Washington and Oregon during the last half-century.
But new research leaves little doubt that a warmer climate has a significant effect on the snowpack, as measured by water content on April 1, even if other factors keep year-to-year measurements close to normal for a period of years.
Water content can vary greatly depending on temperature and other conditions at the time of snowfall. Typically an inch of snow at temperatures near freezing will contain significantly more water than an inch of snow a colder temperatures.
"All things being equal, if you make it 1 degree Celsius warmer, then 20 percent of the snowpack goes away for the central Puget Sound basin, the area we looked at," said Joseph Casola, a University of Washington doctoral student in atmospheric sciences.
That means that even in years with normal or above-normal snowfall, the snowfall probably would have been even greater except for climate warming. The finding has implications for various water-dependent resources, including drinking water supplies, fisheries, irrigation and hydropower, and it could be applicable to other areas of the Cascades in the Pacific Northwest.
Annual snowfall variability makes it difficult to plot a meaningful trend, Casola said. Starting in a year with high snow accumulation will imply a significant decrease over time, while starting in a year with average or low snow totals will imply little change or even an increase. So, for example, measuring from 1944 to 2005 shows just a slight decline in snowpack but changing the starting year to 1950 more than triples the decline.
However, the measurements also show a slight increase in the last 30 years, a period of significant climate warming. That is probably because trend measurements include declines from climate warming as well as increases and decreases from other factors. For example, several of the lowest-snow winters in the Puget Sound area were during El Niño years, while many of the highest-snow winters were during La Niña years. Those two climate phenomena in the South Pacific can have significant impact on Northwest weather. Likewise, the amount of snow can be affected by a long-term climate cycle in the North Pacific called the Pacific Decadal Oscillation, which changes between positive and negative phases on the order of every 20 years.
"Global warming can be reducing your snowpack over time, but other factors can mask the impact of the warming," Casola said. "Conversely, in a period of dry years global warming would tend to exacerbate the effects."
The new research used four different methods to examine decades-long records of water contained in Cascades snowpack in the central Puget Sound basin on April 1 of each year. Scientists used simple geometry to estimate temperature sensitivity of snowpack, made detailed analysis of seasonal snowpack and temperature data, used a hydrological model to examine the data, and analyzed daily temperature and precipitation measurements to estimate water content of snowpack on April 1.
"If you assume precipitation is the same every year and look at the effects of temperature alone, all the ways we examined the data converge at about a 20 percent decline in snowpack for each degree Celsius of temperature increase," said Casola.
He is lead author of a paper detailing the work, part of his doctoral thesis, which is being published online May 14 in Journal of Climate, published by the American Meteorological Society. Co-authors, all from the UW, are Lan Cuo, Ben Livneh, Dennis Lettenmaier, Mark Stoelinga, Philip Mote and John M. Wallace.
While there still is uncertainty in the trend data, people can expect to see lower spring snowpack more frequently in the future, with low-snow winters bringing low-flow summers, Casola said. Winter precipitation in the Cascades is likely to be similar to what is recorded now, but more of it will be rain.
Casola notes that businesses, resource manager, utilities and irrigators increasingly accept the notion of climate change, and many try to incorporate the information into long-term plans.
"Now they want to know, 'What does this mean for my operation?'" he said. "People are becoming more savvy to the issue of climate change. They want to be aware of changes that might be coming and to identify areas in their systems that perhaps need to be modified."
The work was funded by the National Science Foundation and the Joint Institute for the Study of the Atmosphere and Ocean at the UW.
The above story is based on materials provided by University of Washington.
The following is an excerpt from the "Water Woes" article in the Northern Kittitas County Tribune, Cle Elum, Washington by Bruce Coe (for full article Click Here): A public meeting was held in Ellensburg concerning the development of new wells outside the Upper Kittitas County Groundwater Rule Area. The proposal retains the concept of an exempt well which would allow 350 gallons a day, metered with higher usage compensated with a mitigation plan. For a more comprehensive look at the proposed rules Click Here
Click Here for a little history of irrigation in the Yakima Valley
Click Here for Bureau of Reclamation site on background and history on the Yakima Project
Click Here
 for Lower Yakima Valley Groundwater Study by the Department of Ecology
the following is from "Effects of Potential Future Warming on Runoff in the Yakima River Basin, Washington"
Prepared by the United States Geological Survey and the Bureau of Reclamation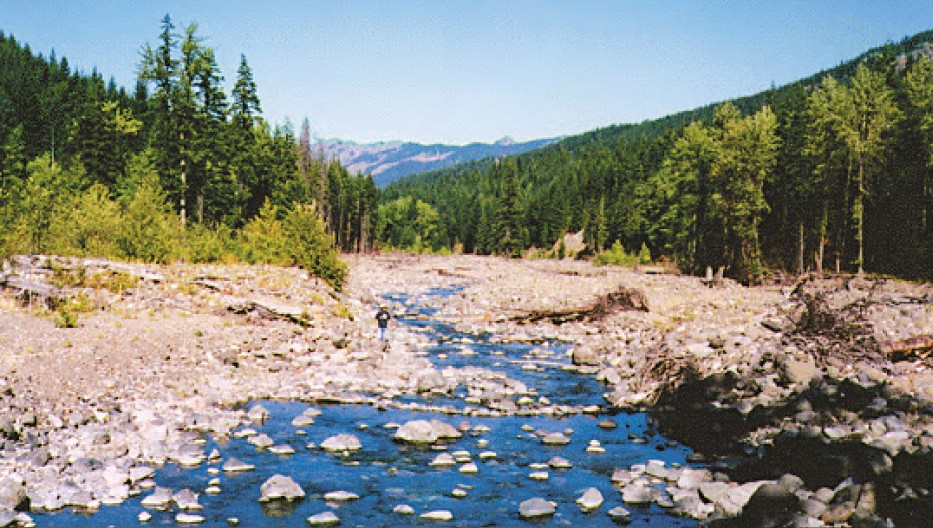 The report describes the future potential climate change that may occur in the Yakima River Basin. Tables 2 & 3 below show the possible changes that would effect instream flow and out of stream water usage. All watershed plans should consider the lesser amount of water runoff and snow melt conditions in the Basin.
Click on Effects of Potential Future Warming on Runoff in Yakima Basin for the full report.
The location of the proposed enhancement identified in the Integrated Plan of the Yakima River Basin can be viewed by clicking here for Map  and may be enlarged for clarity. It includes maps of the Yakima River Watershed WIRA's 37, 38, & 39. Important areas identified in the Integrated Plan are
- the location of the property to be purchased by Washington State is the area around the north, middle, & west forks of the Teaneway River.
- the drainage area for Lake Kachess and Lake Kachelus available to provide the additional water for the lake Kachelus additional storage.
- the location of the proposed Bumping Lake enlargement and it's proximity to the William O. Douglas Wilderness Area. The proposed dam site is near where the Bumping River Road crosses Bumping River.
- the boundaries of the Yakama Nation, the United States Department of Energy Site (Hanford), the Yakima Training Center, and other public lands such as national forests are identified.
- the map of the Yakima Basin was developed by the Department of Ecology GIS Technical Water Resources Program in March, 2004.
from komonews.com
After a 100-year absence, sockeye return to Lake Cle Elum
                  By
Jeff Burnside
                                       Published:  Jul 14, 2013 at 5:55 PM PDT
LAKE CLE ELUM, Wash. – For the first time in more than a century, sockeye salmon are returning to Lake Cle Elum high in the Cascades.
The project led by the Yakama Indian tribe – on a bare bone's budget – is getting applause across the continent.
And this weekend, tribal members were there to witness something not seen in more than 100 years – sockeye salmon returning from the Pacific Ocean back home to Lake Cle Elum at last.
So historic is this for the Yakama Tribe that they call it simply "the return."
"I feel gratitude. Gratitude to The Creator for allowing us to be able to bring these fish back from extinction," says Virgil Lewis of the Yakama Tribal Council.
It wasn't easy.
Elders say you could cross the river on the backs of the sockeye in the old days – until dams destroyed it all.
The, in 2009, 1,000 sockeye were transplanted to Lake Cle Elum from elsewhere. More were added each year.
And incredibly, they started spawning here – in gravel beds untouched for a century.
The juveniles began finding their way over dams to the Pacific Ocean. Then, surviving their way back, unable to climb the last few dams, the Yakama waited until – there they were, swimming through a fish counter beneath Roza Dam.
And, this week, with a lot of help from others and a little help from a truck, the first 167 sockeye returned home.
"I had a great grandmother who was 120 years old when she died, and she'd talk about what The Prophet said was going to happen to this place," says Virginia Beaver, a 91-year-old Yakama elder. "And it has happened. That's why I'm here because I'm very impressed with what you're doing here. We need all the support we can get, to take care of our environment, and everything that goes with it."
The Yakama Tribe says this is only the beginning. They want more sockeye, other species and more lakes. But this project is already a success because returning sockeye to Lake Cle Elum is about far more than fish.
It is possible that the sockeye could get around the dams on their own, but it'd require a lot of money for fish ladders and other changes.
Click here for link to video of sockeye returning to Lake Cle Elum.
Click for Yakima Watershed Map
Click to view New Storage is the only Solution for the Yakima River Basin Comparison
Grand Coulee Dam early July 2013 spilling water.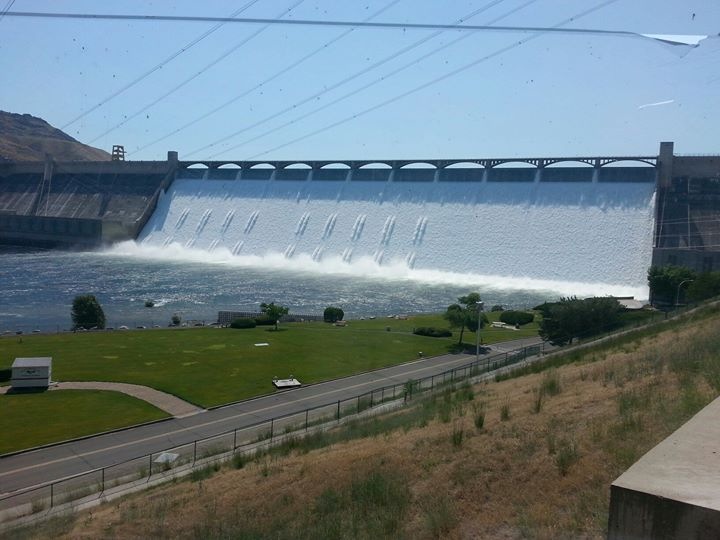 Bumping Lake enlargement would submerge great amounts of old growth forest and recreational areas by the larger reservoir.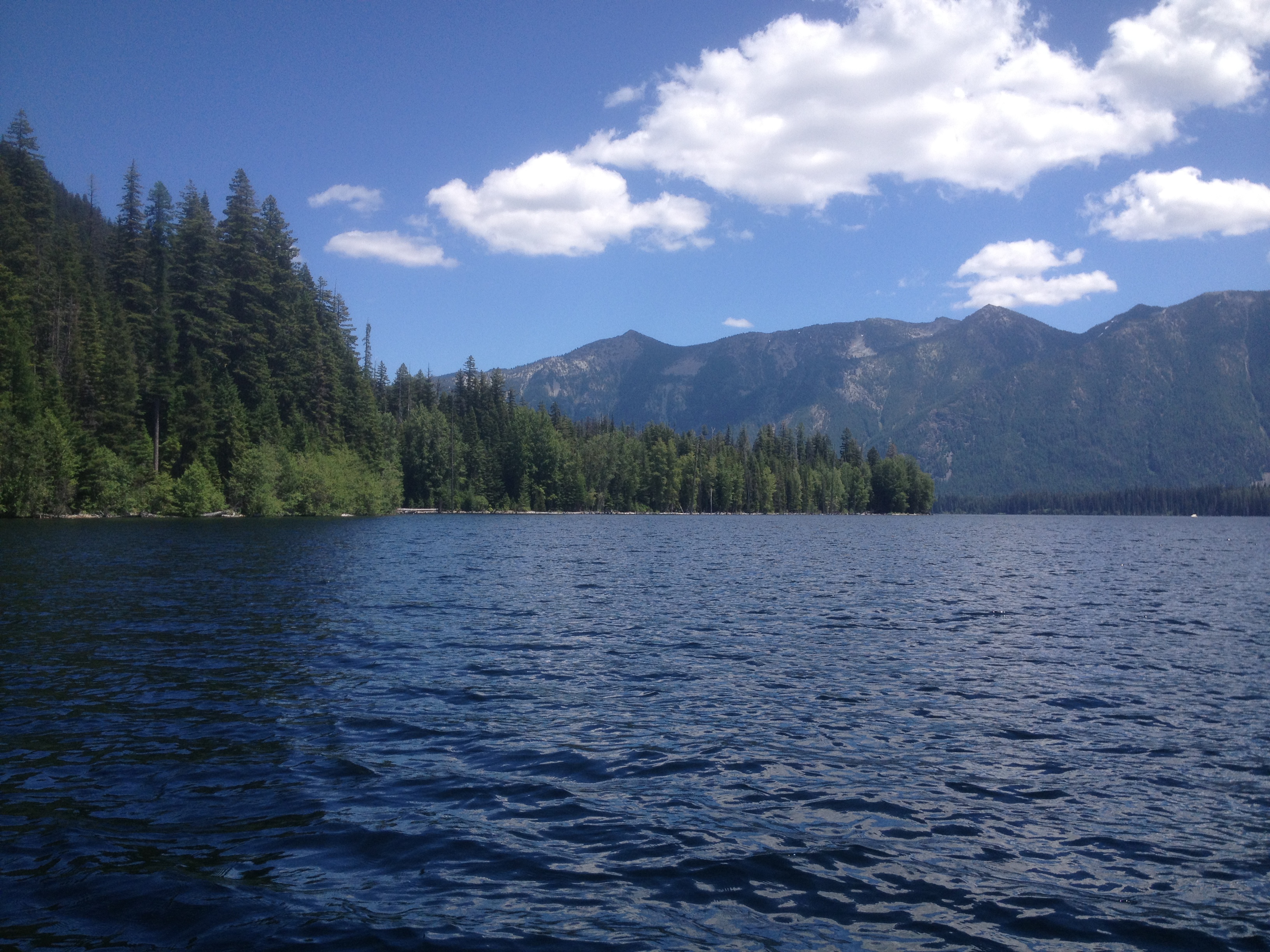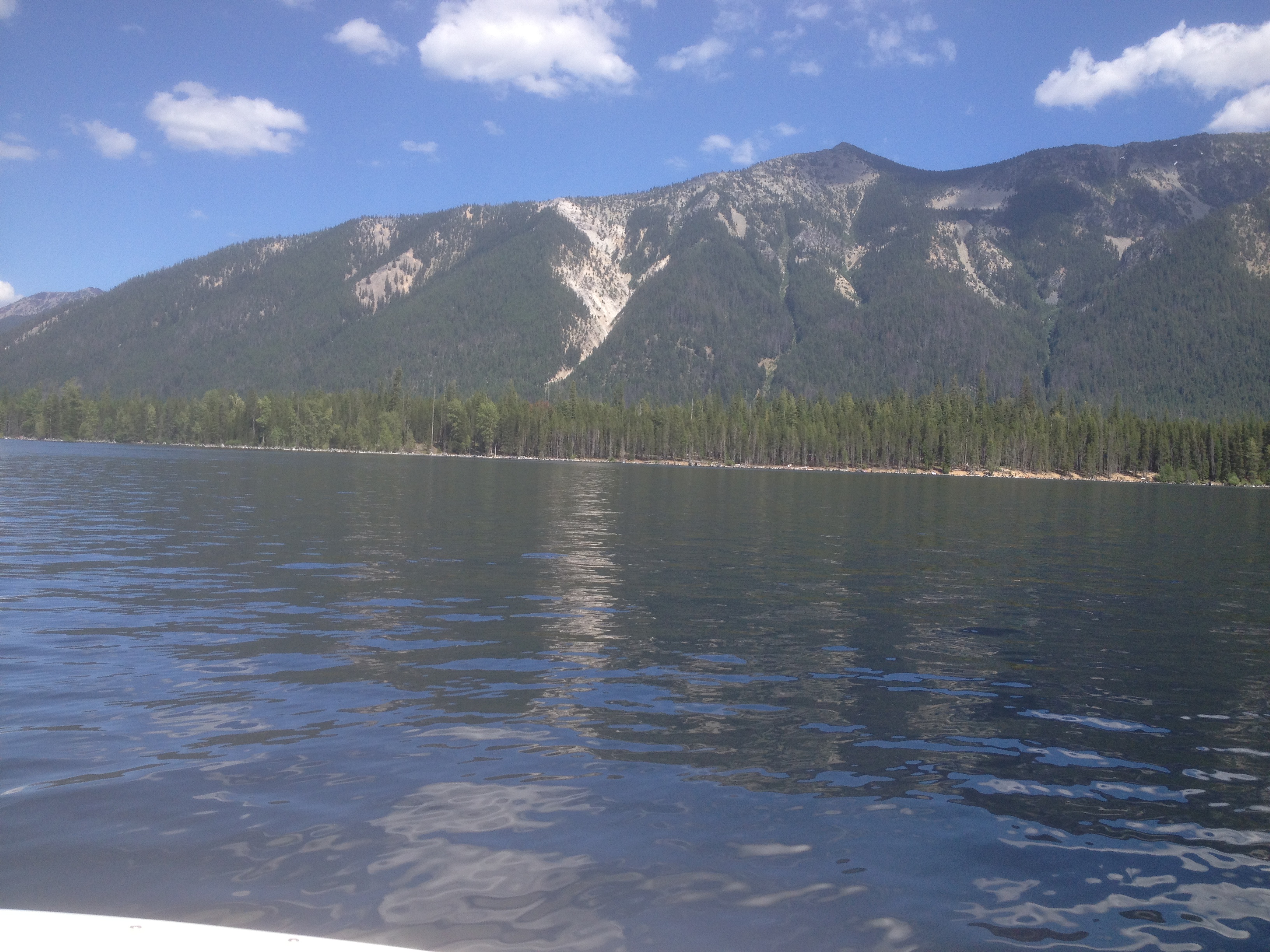 Yakima River Basin Integrated Water Resource Management Plan Images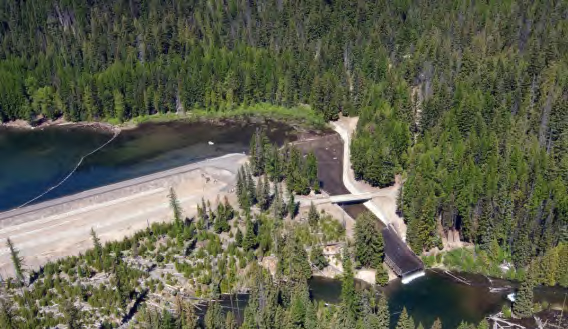 Bumping Lake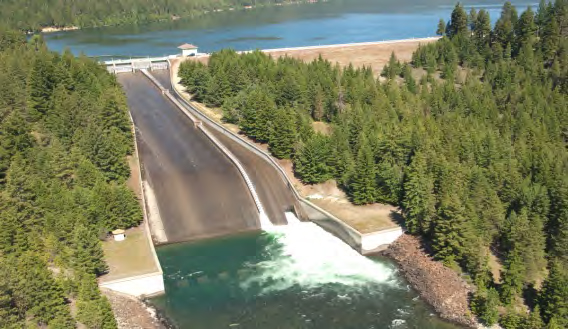 Lake Cle Elum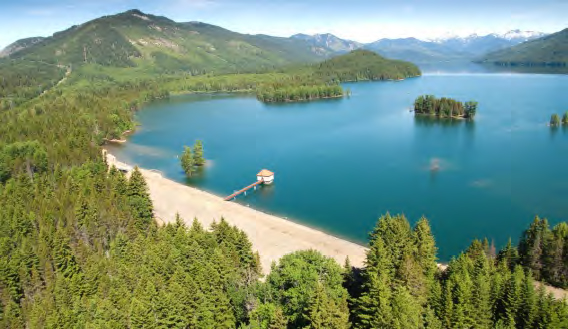 Lake Kachess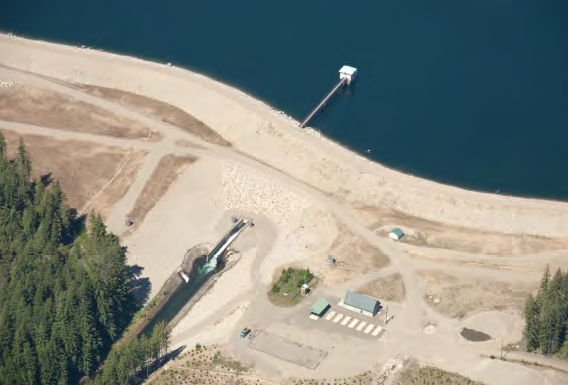 Lake Keechelus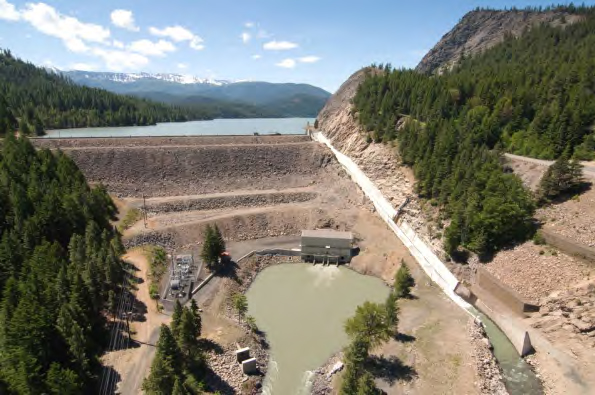 Rimrock Lake
House Agriculture & Natural Resources Committee
Work Session: Overview of the Yakima Basin Integrated Water Resource Management Plan; Public: HB 1196
http://www.tvw.org/index.php?option=com_tvwplayer&eventID=2013010085
from TVW Watch Learn Connect
Ellensburg Daily Record series on Yakima Water Plan
from Yakima Basin Conservation Campaign website
http://www.yakimaforever.org/2012/07/13/ellensburg-daily-record-series-on-yakima-water-plan/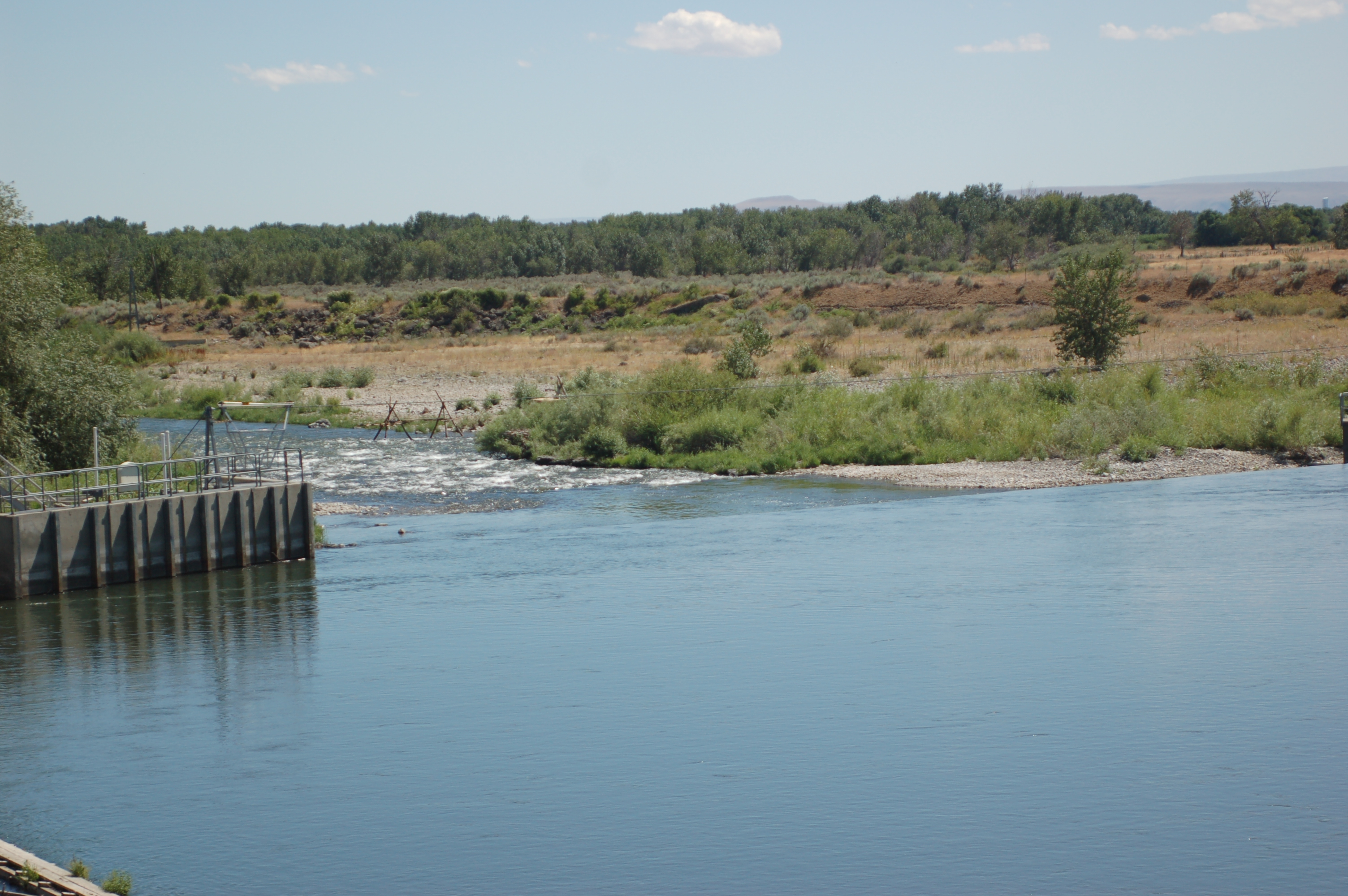 Yakima River Above Sunnyside Dam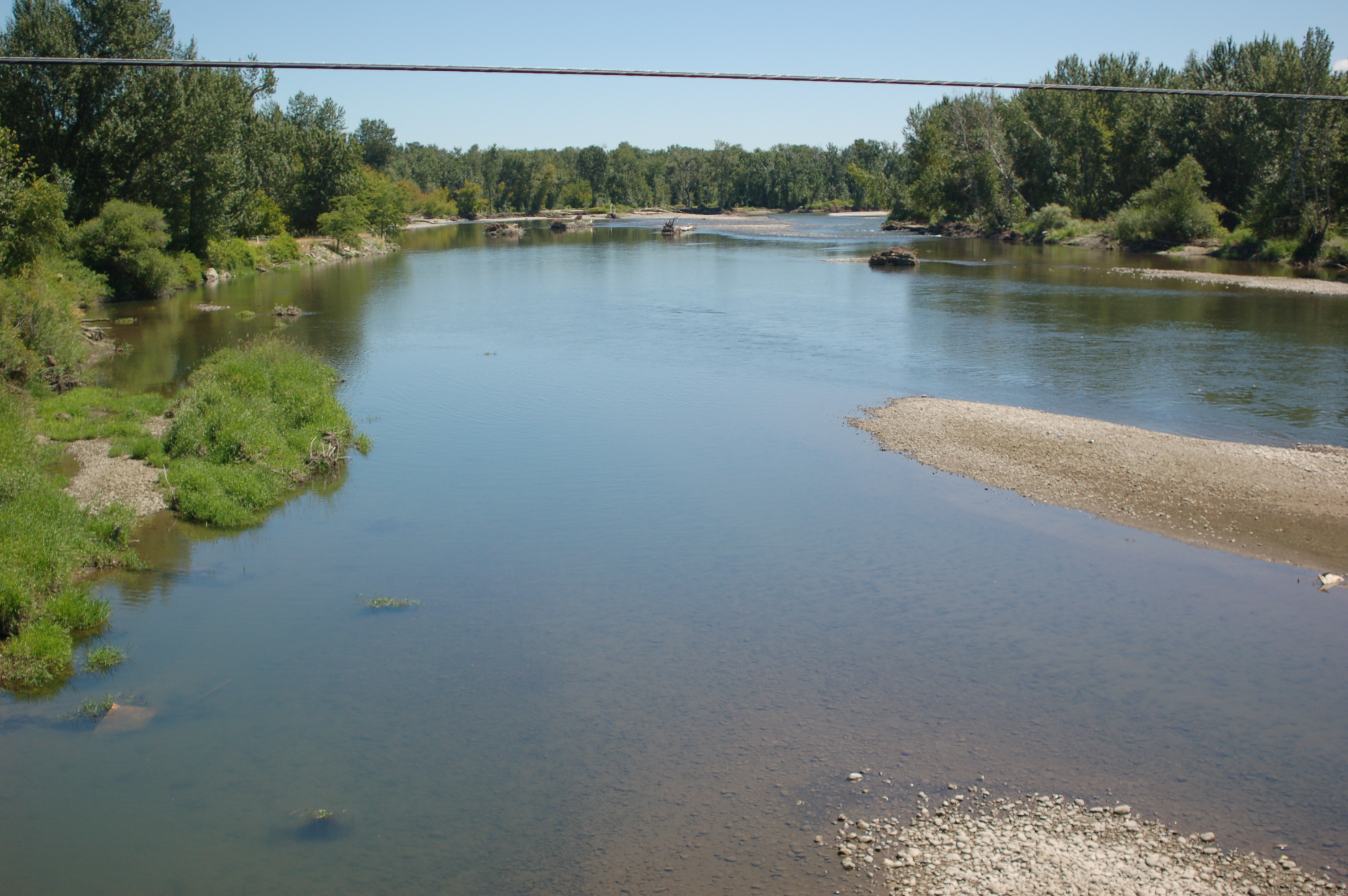 Yakima River at Toppenish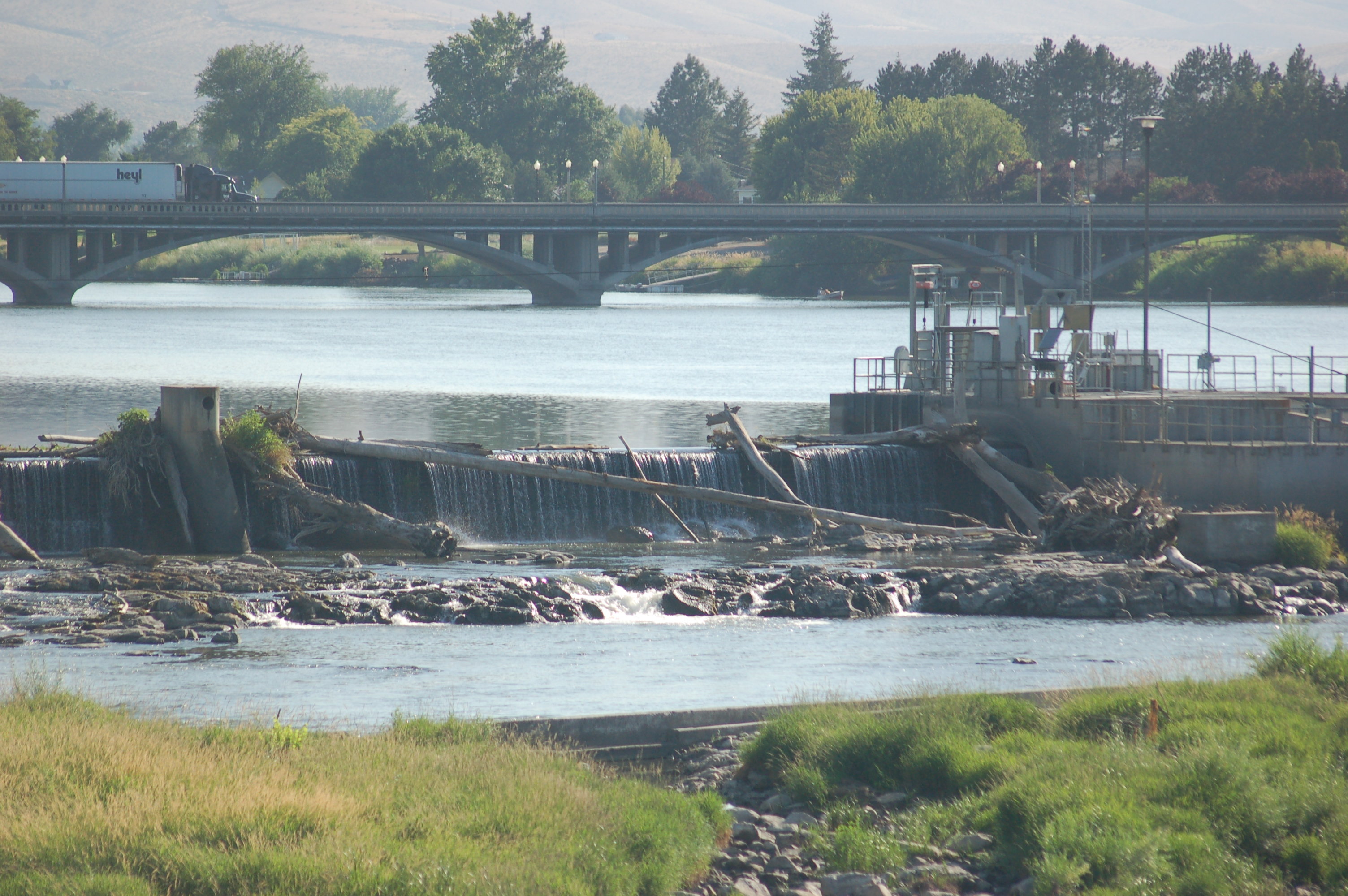 Yakima River at Prosser
Inslee takes important step toward Valley's economic future
http://www.yakimaherald.com/sports/778604-8/inslee-takes-important-step-toward-valleys-economic-future
Click on image to enlarge. From Yakima River Basin Integrated Water Resource Management Plan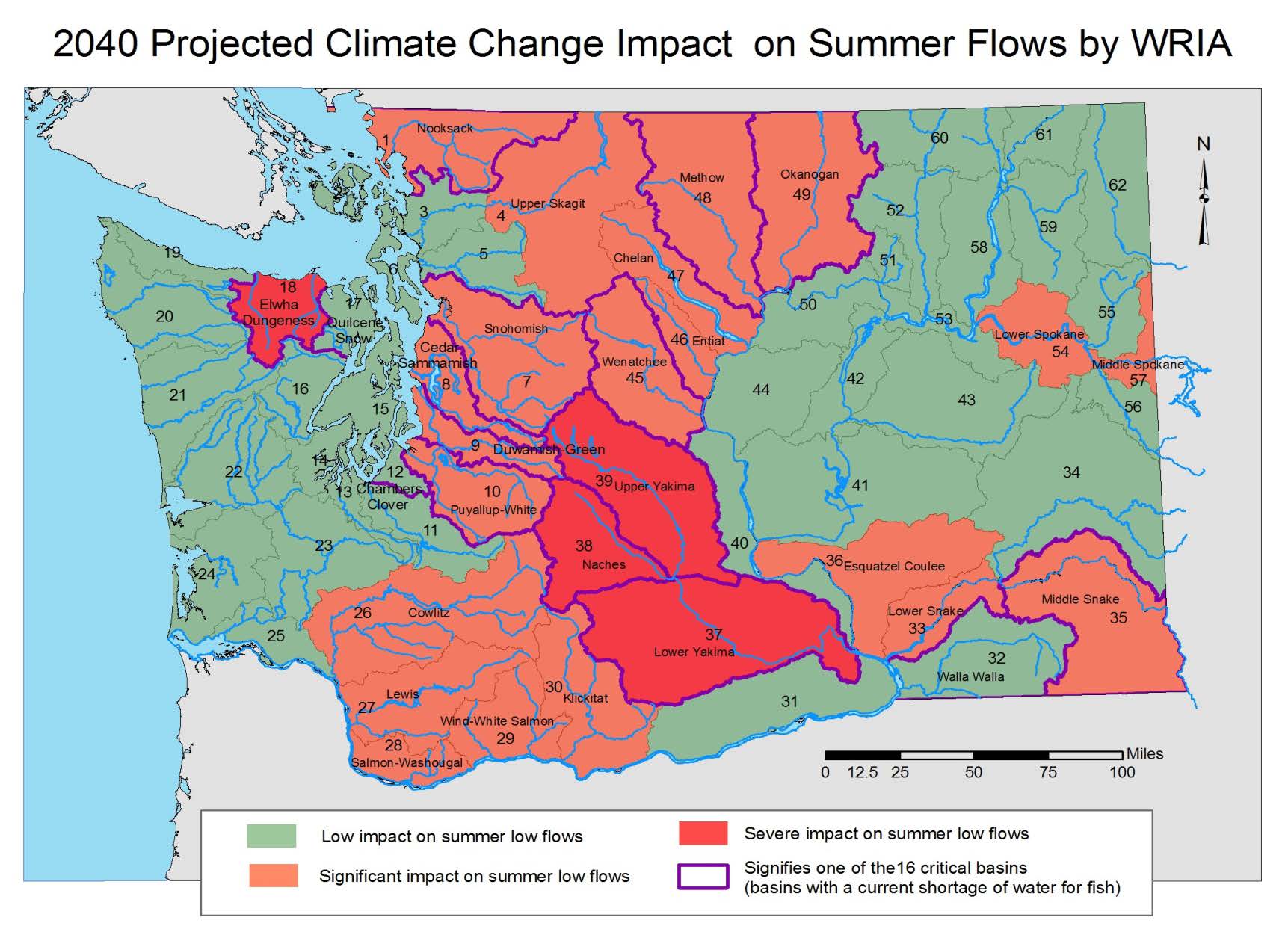 Yakima Basin water plan gets hearing
YAKIMA HERALD-REPUBLICThe result of three years of work on a plan to meet future water needs in the Yakima River Basin got its first public airing Tuesday before one group that can help make it happen: the Legislature.
Some of the participants who did the work urged the House Agriculture and Natural Resources Committee in Olympia to approve a bill that would authorize the state Department of Ecology to begin implementing what is called the integrated water resources management plan. The ambitious plan involves a mix of new storage, fish passage, water conservation, land preservation, water banking, aquifer storage, and operational changes to make better use of existing water in the three-county basin.
Each of the plan's components would need individual environmental review to be authorized.
Yet to come before lawmakers is a separate request by Gov. Jay Inslee for bonding authority in the state capital budget to raise more than $20 million as a down payment on the overall plan. The overall cost could be as much as $5 billion and will be sought from the state, local sources and the federal government.
The hour long hearing put on display a difference of opinion among conservation groups, with some testifying on its behalf because of its major environmental improvements while others said the storage element — expansion of Bumping Lake and construction of the Wymer reservoir in the Yakima River Canyon — should be deleted in favor of greater emphasis on conservation.
Another basin group, the Yakima Basin Storage Alliance, an agri-business coalition that favors importing water from the Columbia River, questioned whether the proposed storage would be adequate to meet future needs in the face of climate change that could reduce winter snowfall. The basin relies on heavy winter snow to provide some of the water needed for irrigation, fish and economic development.
Committee Chairman Rep. Brian Blake, a Longview Democrat, said at the conclusion of the hearing that members could act on the bill as early as next week. Among the bill's sponsors are Rep. Bruce Chandler, R-Granger, and Rep. Judy Warnick, R-Moses Lake.
The integrated plan had its birth three years ago after the federal Bureau of Reclamation determined a new water reservoir in the Black Rock Valley, east of Yakima, was too expensive.
In the aftermath of that study, bureau and Ecology officials brought stakeholders together to work on a comprehensive solution to water needs. Represented in the group are state and federal fish agencies, the Yakama Nation, local and state agencies, irrigators, and an environmental group, American Rivers.
Ted Sturdevant, who led Ecology during the plan development and is now Inslee's executive director for legislative affairs and policy, testified that the plan is a welcome departure from fighting over water and represents the future of water management in Washington state.
"I'm here on behalf of the governor to support leaders in the basin who took real risks to lay aside decades of conflict to forge a durable compromise where all needs are met," he said. "Passage of this bill and a corresponding down payment will show the federal government we are serious and strengthens our hand to obtain funding."
At the hearing, Yakima County Commissioner Mike Leita called the bill a small but important first step that has the support of all commissioners in the three counties.
Conservation groups testifying for the bill included American Rivers, which worked on the plan, as well as the Washington Environmental Council, Trout Unlimited, The Nature Conservancy and The Wilderness Society. Opponents included Friends of Bumping Lake, The Sierra Club and the Alpine Lakes Protection Society.
Bill Robinson, state government relations director of The Nature Conservancy, called the measure a first step to protect what he called special places, such as the Teanaway and a checkerboard of privately owned timber land in the Little Naches drainage. The plan seeks public ownership of some 70,000 acres of timberland and shrub steppe habitat.
But Chris Maykut, with the Friends of Bumping Lake, testified the expansion of the 33,000 acre-foot lake northwest of Yakima would destroy old-growth timber and the habitat of endangered species. Expanding the dam to about 190,000 acre-feet would cost an estimated $570 million.
"The Legislature should not appropriate more money on Bumping Lake because it is not the most cost-effective way to get water in drought years. Water conservation will save more than Bumping Lake," he said.
Jay Manning, another former Ecology director and now a member of the Cascadia Law Group, which emphasizes work on natural resource issues, testified in favor of the bill, calling it a compromise that will benefit the economy and the environment.
He said it should not become another study that sits on a shelf.
"It's not going to please everyone on the far left or the right, but it has the support of virtually everyone in the middle," Manning said.
Facts Pertaining to the Yakima River Basin
Under present physical conditions in the Yakima River Basin there is an insufficient supply of ground and surface water to satisfy the present needs of the basin. The future competition for water among municipal, domestic, industrial, agricultural, and instream water interests in the Yakima River Basin will be intensified by continued population growth, and by changes in climate and precipitation patterns.
The Yakima River
The Yakima River originates at the outlet of Lake Keechelus and runs for 214 miles in a southeasterly direction to its confluence with the Columbia River at Richland. With its tributaries, the Yakima River drains about 6,150 square miles or 4 million acres. The headwaters of the Yakima Subbasin originate in the high Cascade Mountains, with numerous tributaries draining subalpine regions within the Snoqualmie National Forest and the Alpine Lakes, Norse Peak, and William O. Douglas Wilderness areas. Major tributaries include the Kachess, Cle Elum and Teanaway rivers in the northern part of the subbasin. The Swauk, Teneum, Umtanum, Manastash, and Wenas creeks drain into the upper and middle Yakima River. The Naches River in the west is formed by the confluence of the Bumping and Little Naches Rivers. Tributaries of the Naches include the Tieton River and Rattlesnake and Cowiche creeks. Ahtanum, Toppenish, and Satus creeks join the Yakima in the lower subbasin from the west.
Storage
Six major reservoirs are located in the subbasin and form the storage component of the federal Yakima Project, managed by the USBR. These six reservoirs are Keechelus Lake, Kachess Lake, Cle Elum Lake, Rimrock Lake, Bumping Lake, and Clear Lake. Total storage capacity of all reservoirs is approximately 1.07 million acre/feet. With the exception of Rimrock and Clear Lake, all reservoirs were natural lakes, formed during the period of glaciation, prior to the construction of dams near their respective outlets. Approximately 3 million acre/feet are needed in the Yakima Basin annually.
Precipitation
Virtually all of the streams in the subbasin originate at higher elevations where annual precipitation is 30 inches or more. The rainy season in the valleys occurs during November through January when about half the annual precipitation occurs. Snowfall in the valleys ranges from 20 to 25 inches and from 75 inches at 2,500 feet to over 500 inches at the summit of the Cascades. This mountain snow pack provides most of the water for irrigated agriculture and streamflow.
Property Ownership
Private ownership totals 32 percent or over 1.2 million acres of the 4 million acres in the Yakima Subbasin. The single largest landowner is the U.S government with 1.5 million acres or 38 percent of the land area. Most of the federal land is within the Wenatchee National Forest. Other large federal land holding include the U.S. Army Yakima Training (YTC) Center, the Hanford Nuclear Reservation, and Bureau of Land Management lands (BLM). Other public ownership (state, county, and local governments) total over 400,000 acres. The YN Reservation covers 1,371,918 acres in southern Yakima County and a smaller part of Klickitat County. The YN and its members have over 880,000 acres held in trust; only a small portion is deeded land.
The Future
With climate change estimating a reduction in snow pack the ability to provide the additional water needed annually in the Yakima Basin for fish, agriculture, and residential, municipal and industrial use needs to be addressed.
Bumping Lake Reservoir                                                    Bumping Lake Reservoir
Lake Cle Elum Reservoir                                                   Lake Kachees Reservoir
Lake Keechelus Reservoir                                                Lake Keechelus Reservoir
Rimrock Reservoir
Yakima Basin Storage Alliance
The Storage Component of the Integrated Plan Must Be Evaluated Immediately to Assure Sufficient Water for the Yakima Basin
The Yakima Basin Storage Alliance (YBSA) is a local "grassroots organization" formed to raise the awareness of the dependence of our Yakima River basin economy and environment on a reliable surface water supply and the need for additional stored water.  YBSA is in a unique position in the Workgroup not being affiliated with any specific entity, agency or interest group.   YBSA is focused solely on the challenge of an adequate and reliable water supply for the future in concert with our environmental and cultural values.
In March 2012, a Final Programmatic Environmental Impact Statement was completed in which two plan alternatives were evaluated; a No Action Alternative and the Integrated Plan.   The Integrated Plan consisting of a surface water storage element and six complementary elements was selected as the Preferred Alternative to move forward for Congressional and State legislative authorization and funding for implementation.
YBSA supports the Integrated Plan concept, but we are deeply concerned with the adequacy and reliability of the surface storage element to meet long-term instream and out-of-stream water needs.
The Integrated Plan purports to restore sockeye salmon to theYakimaRiver basinby providing fish passage to streams above the five Yakima Project storage dams inaccessible to adult spawning.
Adult salmon are projected to range from 140,000 to 310,000 at the mouth of the Yakima River facing a summer in-basin migration of 150 to 215 miles upstream to the spawning grounds when peak irrigation diversions are occurring and flows in the lower 100 miles of the Yakima River are dependent solely on return flows from the irrigated lands and target flows over Sunnyside Dam which will not increase with the Integrated Plan.
Recent climate change studies however, indicate that watersheds like theYakimaRiver basindominated by fall rain and spring snowmelt will be most affected by climate change.  To assess the impact on the Integrated Plan three climate scenarios were evaluated; less adverse, moderately adverse, and more adverse.  Results indicate that increased air temperature would cause more precipitation to fall as rain rather than snow in theCascade Mountainswith snowmelt runoff occurring earlier than under current conditions.  This suggests significant risks to theYakimaRiver basin's "sixth reservoir" of snowpack and the extended period of spring runoff which fills the reservoirs by about mid-June and provides natural unregulated runoff for irrigation diversions and instream flow maintenance for fish through the spring months.
How will the dry-year proratable irrigation water needs of a 70      percent supply be met when operation studies show the following for two of      the three climate change scenarios:       moderately adverse scenario of 14 drought years out of 25 years      with the 70 percent criteria violated in every dry-year; and most adverse      scenario of 24 dry years out of 25 years with the 70 percent criteria      violated in 22 of these years?
What assurance do we have that after incurring significant capital      investments the conflict among instream uses with time immemorial senior      Treaty rights will not subordinate junior out-of-stream rights in dry      years?
One of the three projects of the water storage element is the construction of a new dam on the Bumping River about one-mile downstream of the existing dam.  The numerous reports gathering dust in the bookcases of Reclamation offices are testimony to the failed efforts to bring an enlarged reservoir on-line since about 1950.  Irrespective of this history of opposition, some are convinced that this time with a different form of "greening of the environment" Bumping Lake Reservoir enlargement will successfully move forward.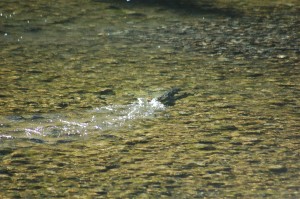 Below are several recent articles on water issues in the Yakima River Basin.
Inslee takes important step toward Valley's economic future
http://www.yakimaherald.com/search/778604-14/inslee-takes-important-step-toward-valleys-economic-future
Yakima Basin water plan gets hearing
http://www.yakimaherald.com/search/757428-8/yakima-basin-water-plan-gets-hearing
Governor's Budget Policy Brief: Governor Chris Gregoire's 2013 Budget Policy Brief-Managing Water in the Yakima Basin: The activities recommended for funding in the capital budget are:
Complete early action water supply projects ($20.9 million) The Department of Ecology will restore main stem and tributary habitat, construct fish passage facilities, divert power to support salmon migration, increase Lake Cle Elum storage, pump water into reservoirs to improve in-stream flows, enlarge Bumping Lake, construct a pipeline to connect Lake Keechelus and Lake Kachess, modify the Lake Kachess reservoir and create a groundwater infiltration system.
Acquire water rights ($2.0 million) The Department of Ecology will purchase existing senior water rights to provide seed water for establishing and operating basin water banks. Water banking is a mechanism used to facilitate legal transfer and market exchange of various types of surface, groundwater and storage entitlements. Setting up these banks will reduce barriers to completing water transfers and making water available for new uses.
Click Here for full report and updated information.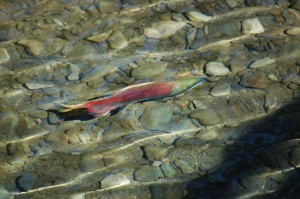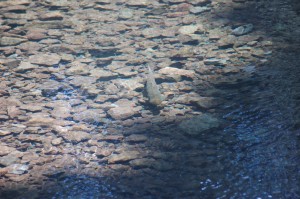 from Climate Change Impacts on Water Management and Irrigated Agriculture in theYakimaRiver Basin,Washington,USA
Julie A. Vano, Michael Scott, Nathalie Voisin, Claudio O. Stöckl, Alan F. Hamle , Kristian E. B. Mickelson, Marketa McGuire Elsner, and Dennis P. Lettenmaier
The Yakima River Reservoir system supplies irrigation water to over 180,000 irrigated hectares (450,000 acres). Runoff is derived mostly from winter precipitation in the Cascade Mountains, much of which is stored as snowpack and runs off in the spring and early summer. Five reservoirs within the basin have cumulative reservoir storage of approximately 30% of the river's mean annual flow. Climate change during the 21st century is expected to result in earlier snowmelt runoff, and reduced summer flows. The effects of these changes on irrigated agriculture in the basin were simulated using a hydrological model driven by downscaled climate scenarios from 20 climate models, output of which was archived by the 2007 IPCC Fourth Assessment Report. In general, we find that the basin transitions to earlier and reduced spring snowmelt as the century progresses, which results in increased curtailment of water deliveries, especially to junior water rights holders. Historically, theYakima basin has experienced water shortages (years in which substantial prorating of deliveries to junior water users was required) in 14% of years. Without adaptations, for the A1B emission scenarios, water shortages that occur in 14% of years historically increase to 32% (15% to 54% range) in the 2020s, to 36% in the 2040s, and to 77% of years in the 2080s. For the B1 emissions scenario, water shortages occur in 27% of years (14% to 54% range), in the 2020s, 33% for the 2040s and 50% for the 2080s. Furthermore, the historically unprecedented condition in which the senior water rights holders suffer shortfalls occurs with increasing frequency in both the A1B and B1 climate change scenarios. Economic losses include lost value of expected annual production in the range of 5% to 16%, with significantly greater probabilities of annual net operating losses for junior water rights holders.
Climate change is projected to impact water supply within theYakimaRiver basin, especially for water users with junior water rights and – in the most extreme years – users with senior water rights. Due to changes in seasonal patterns of runoff, the system is projected to become increasingly unable to meet deliveries to junior water rights, and these increased occurrences of curtailments for junior water users may be substantial even in the 2020s.
Assuming current water rights and operating policies, these changes in system performance may result in decreases in economic value of crop production. Even with earlier crop development, which may somewhat reduce the impacts of summer water shortages, the expected value of production on junior lands may decline substantially as early as the 2020s. Without adaptation, the expected annual profits of perennials on junior land are much more likely to be negative, putting the success of many farm operations in doubt. In addition, the total annual value of farm production for the two crops discussed may decline anywhere from about $23 million to $70 million, depending on the time period and scenario, about 2% to 5% of total current farm production in the three counties that correspond to the Yakima River basin.
for full document click here.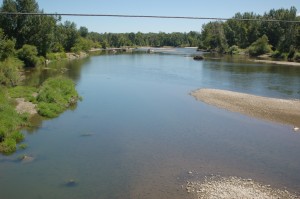 Bob Tuck Salmon Walk
on the American River

Life Cycle of  Spring Chinook on the Cle Elum River
Sockeye Above Lake Cle Elum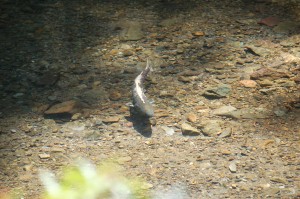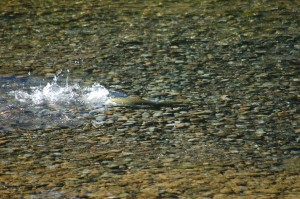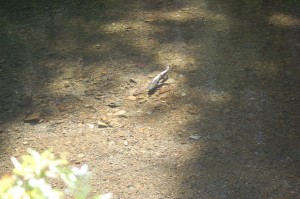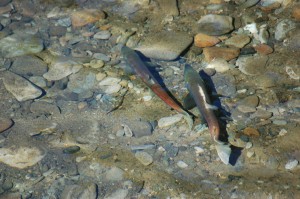 17605