Welcome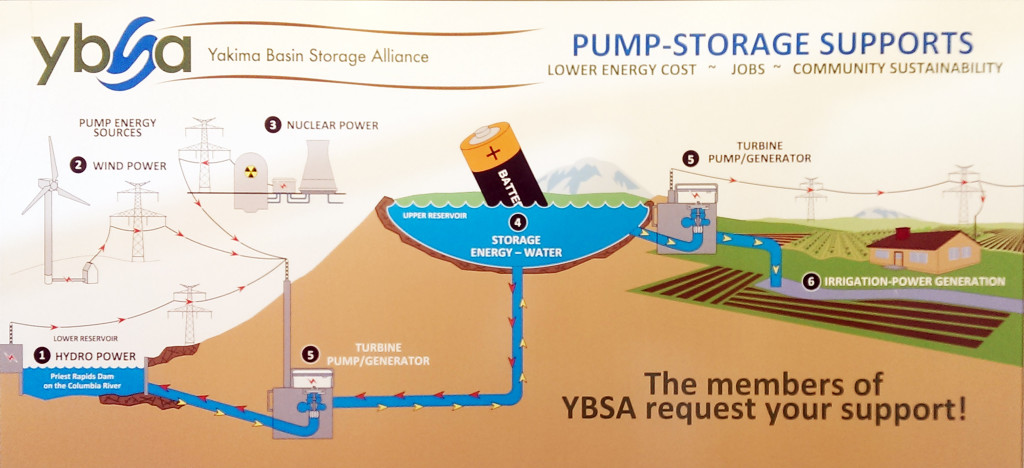 ---
Yakima Basin Storage Alliance
To launch a grass-root campaign designed to educate and raise the awareness about irrigated agriculture and its relationship with Washington State communities and economies.
To provide evidenced demonstrating why the Yakima Basin desperately needs increased storage.
To illustrate that the Yakima Basin's economies are in jeopardy if we do not increase water storage for the Yakima Basin.
To become a resource and catalysts for storage activism, both locally and statewide.  To actively investigate, identify, assess, and promote storage solutions while presenting a unified, informed alliance to engage opposition.
To become the umbrella organization for Yakima Basin storage supporters, forging a foundation for political and social reform that will result in increased storage to benefit irrigated agriculture, instream flows, salmon recovery, Yakima River ecology, and Yakima Basin communities.
Yakima River Basin
The Yakima River flows 215 miles from the outlet of Keechelus Lake in the central Washington Cascades southeasterly to the Columbia River, draining an area of 6,155 square miles. The Yakima River Basin is one of the most intensively irrigated areas in the United States. Population in the Yakima River Basin was about 238,000 in 1990.Increasing demands for water for municipal, fisheries, agricultural, industrial, and recreational uses will affect the ground-water resources of the basin. A better understanding of the ground-water flow system and its relation to rivers and streams is needed to effectively manage the basin's water resources.
In cooperation with the U.S. Bureau of Reclamation, the Washington Department of Ecology, and the Yakama Indian Nation, the USGS is studying the ground-water system in the Yakima River Basin and how it interacts with rivers and streams in the basin. The study includes data collection, mapping of hydrogeologic units and ground-water levels, and a computer numerical model to bring together all the information.
$300 million to dam up a dry canyon? It could make sense for the Mid-Columbia
Not the region's first reservoir
A study is no guarantee Switzler Canyon will ever become a reservoir.
Funding the project will be difficult. A 2012 study by Aspect Consulting said the cost could be more than $300 million, adjusted for inflation.
At 44,000 acre-feet, the Switzler Canyon Reservoir is far smaller than Black Rock Dam, a 1.7 million acre-foot behemoth proposed for the Yakima Basin some 20 years ago.
Black Rock would have been filled with water pumped from the Columbia when water ran high and power rates were low.
Conceived to bank water for droughts, when junior water rights holders see their water curtailed, Black Rock would have been one of the largest dams of its kind.
Though advocates continue to push the project, its multi-billion dollar price tag has kept it from advancing.
A former Benton County official who worked on Black Rock said it is effectively dead.
Pros and cons
Darryl Olsen, executive director of the Kennewick-based Columbia-Snake River Irrigators Association, put the odds of Switzler Reservoir being built at "zero."
The association's board opposed Switzler last year, calling it financially unsound. Olsen said the board will review it again, but he doubts its position will change.
Irrigators feel the $1 million the state allocated to the EIS would be better spent on conservation measures in the Roza Irrigation District.
That would yield near-term water savings, Olsen said.
"We want to support things that are going to get built and that are going to deliver water," he said, calling Switzler a "hydraulic fiction."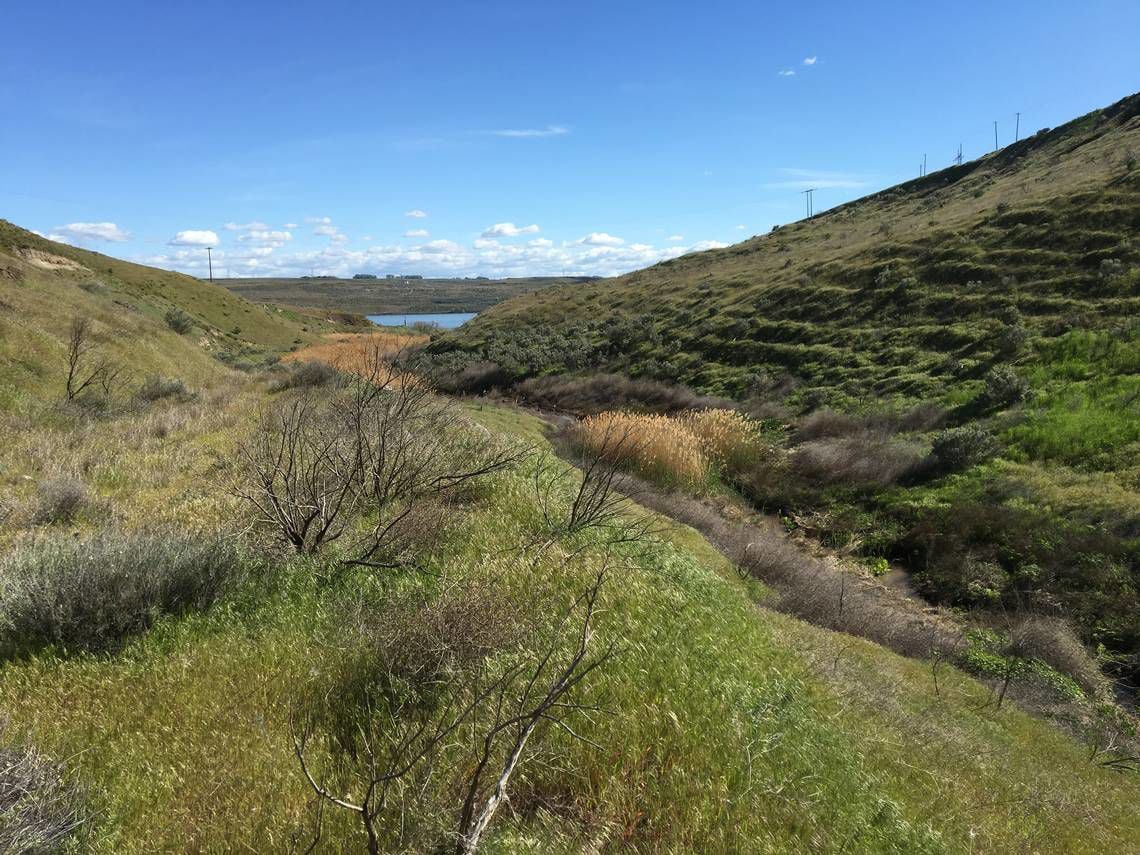 Adam Fyall, Benton County's sustainable development manager, said the idea is worth exploring.
As drought years arrive with greater frequency, it's important to address summertime shortages that harm agriculture.
Storage is a critical piece of the picture. Switzler is the best of the options studied over the past decade.
"This is a mitigation reservoir to assist in drought years," he said. "We are in a dry area that is always water stressed, with or without climate change."
Fyall prefers to call Switzler a "concept" rather than "proposal."
To move forward, it will need a champion, possibly a new utility district to develop, maintain and operate it.
It would have to offer water at a price irrigators are willing to pay, but it won't be low-cost. High-value crops such as wine grapes could make sense.
A source of funds has not been identified, but could include a mix of state and federal dollars and revenue bonds backed by user fees.
The project
From above, Switzler Canyon has the jagged shape of a two-point antler, with one long prong and one shorter one.
The canyon narrows as it reaches the Columbia. It's mouth is near a pump station operated by Easterday Farms, on the Washington side, east of Plymouth and across the water from Oregon's Hat Rock State Park.
A 320-foot earthen dam would block the canyon at the the channel.
As with Black Rock, Columbia River water would be pumped via an 83-inch pipe to the reservoir when the river is high and power is cheap.
The reservoir is not intended to serve boaters or recreation since the property is privately owned by Easterday and its neighbors.
The owners have given preliminary approval to evaluate the concept, said Fyall.
It would affect habitat and attract water-oriented species to the area. There is no current plan to equip the dam with power generators.
Get involved: Officials will discuss the Switzler project from 4-7 p.m., Sept. 19 at the Klickitat County PUD Building and from 4-7 p.m., Sept. 20. at the Benton County Fairgrounds in Kennewick. Written comments can be submitted to David McClure, director of the Klickitat County Department of Natural Resources and Development, 127 W. Court St., Goldendale, WA 98620. The comment deadline is Oct. 15. Past studies and documents are posted at bit.ly/SwitzlerCanyonReservoir
Reclamation issues draft programmatic investigation report for Yakima Basin tributaries
Media Contact: Edna Rey-Vizgirdas, (208) 378-5212, ereyvizgirdas@usbr.gov

For Release: August 01, 2018
YAKIMA, Wash. – The Bureau of Reclamation has completed a draft Yakima Basinwide Tributaries Programmatic Investigation Report. The report describes potential projects to enhance water supplies, improve habitat conditions, and benefit federally listed fish species in tributaries throughout the Yakima River basin.
The study was completed under the Yakima River Basin Water Enhancement Project (YRBWEP) in coordination with the Yakama Nation, State of Washington, National Marine Fisheries Service, and Yakima Basin irrigators. Enhancement measures such as fish passage, water conservation, floodplain reconnection, and habitat restoration may be considered for various tributaries in the basin, based on identified needs. Any future project implementation will involve opportunities for public involvement as well as participation by the Yakama Nation, State of Washington, water users, and other stakeholders.
To obtain copies of the draft report, contact Jason Romine at jason_romine@fws.gov.
The document is available online at: https://www.usbr.gov/pn/programs/yrbwep/phase2/tribhab/index.html.
Written comments should be addressed to Jason Romine, U.S. Fish and Wildlife YRBWEP representative, Bureau of Reclamation, 1917 Marsh Road, Yakima, Wash., 98901-2058. Comments will be accepted until August 31, 2018.
Background: https://www.usbr.gov/pn/programs/yrbwep/.
https://www.usbr.gov/newsroom/newsrelease/detail.cfm?RecordID=62952
State officials say it would cost millions to keep the Naches fish hatchery open. The hatchery manager say that's "bogus."
Record Lamprey Return A Cultural Win For Native Tribes