YBSA Monthly Report January, 2018
YBSA Monthly Report
January, 2018
Yakima Basin Water Supply: The 5 reservoirs are at 63% of capacity. The Natural Resource Conservation Service (NRCS) SNOTEL reports the snow water equivalent Snow Water Equivalent (SWE) reports the water content in the upper basin snow is at 96% and the lower valley snow at 99%.
Lake Cle Elum Fish Passage: The Lake Cle Elum fish passage project is moving forward with the digging of the $25 million hole in the lake bed to place the Helix (picture below from Yakima Herald Republic)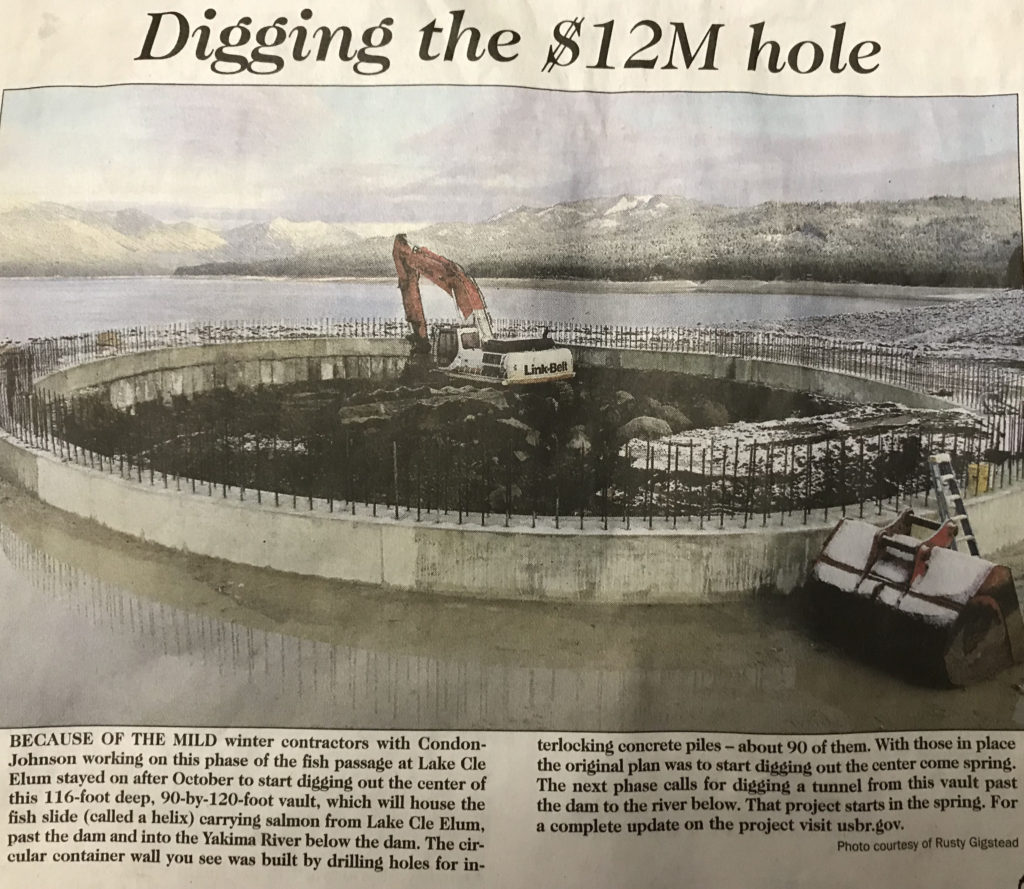 Lake Kachess Drawdown: Once again the Supplemental Draft EIS for the Lake Kachess has not been published. The EIS process began 3 years ago and has not been completed. What needs to be done to complete this EIS? The irrigation community in the Yakima Basin needs to determine if the project is feasible.
Salmon Recovery Funding: More than $96,600 has been awarded to Mid-Columbia Fisheries Enhancement Group for salmon restoration efforts to improve habitat for steelhead, bull trout, and chinook salmon and to restore floodplain connectivity and instream habitat in the Yakima Basin.
Mid-Columbia Fisheries received an additional $219,101 for the Yakima Basin Stewardship Project, which allows the group to continue maintenance on prior projects on Cowiche and Oak creeks, and the Yakima River.
The North Yakima Conservation District has been awarded $228,000 to improve habitat and fish screens in Ahtanum Creek. The district plans to place tree root wads, logs and rocks in the creek, providing fish resting and hiding places.
Water & the Integrated Plan: The Integrated Plan objective for providing more than 500,000 acre/feet of additional water for the Yakima Basin began in 2008. Now 10 years later, very little additional water has been identified. The Columbia River can provide the water to ensure agriculture and fish in the Yakima Basin.
Pump Storage: The Columbia River Pump Storage Project which is listed in the Integrated Plan Storage Components needs to be reviewed and updated. The Pump Storage project (Black Rock) contains the needed water for the Yakima Basin. The in-basin storage has been evaluated for 8 years with no appreciable increase in water storage.
Please contact YBSA with information to support the need for a Pump Storage project to provide water for the Yakima Basin. Write to YBSA at P.O. Box 30, Prosser, WA 99350. Also, you can view information about this issue at www.ybsa.org.
Go to www.ybsa.org for additional information.